» Enjoy our Liturgical Seasons series of e-books!
Old Calendar: Seventh Sunday after Pentecost
"Just as the weeds are collected and burned up with fire, so will it be at the end of the age. The Son of Man will send his angels, and they will collect out of his kingdom all who cause others to sin and all evildoers. They will throw them into the fiery furnace, where there will be wailing and grinding of teeth. Then the righteous will shine like the sun in the kingdom of their Father. Whoever has ears ought to hear." (Matt 13:40-43)
Pope Benedict's Angelus Address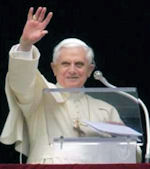 The Gospel parables are brief accounts that Jesus uses to proclaim the mysteries of the Kingdom of Heaven. Using imagery from situations of daily life, the Lord "wants to show us the real ground of all things.... He shows us... the God who acts, who intervenes in our lives, and wants to take us by the hand" (Jesus of Nazareth: From the Baptism in the Jordan to the Transfiguration, English edition, Doubleday, 2007, p. 192).
With this kind of discourse the divine Teacher invites us to recognize first of all the primacy of God the Father: Wherever he is absent, nothing can be good. He is a crucial priority for all things. Kingdom of Heaven means, in fact, lordship of God and this means that his will must be adopted as the guiding criterion of our existence.The subject of this Sunday's Gospel is, precisely, the Kingdom of Heaven. "Heaven" should not be understood only in the sense that it towers above us, because this infinite space also takes the form of human interiority. Jesus compares the Kingdom of Heaven to a field of wheat to enable us to understand that something small and hidden has been sown within us which, nevertheless, has an irrepressible vital force. In spite of all obstacles, the seed will develop and the fruit will ripen. This fruit will only be good if the terrain of life is cultivated in accordance with the divine will.For this reason in the Parable of the Weeds [tares] among the good Wheat (Mt 13:24-30). Jesus warns us that, after the owner had scattered the seed, "while men were sleeping, his enemy" intervened and sowed weeds among the wheat. This means that we must be ready to preserve the grace received from the day of our Baptism, continuing to nourish faith in the Lord that prevents evil from taking root. St Augustine commenting on the parable noted "many are at first tares but then become good grain", and he added: "if these, when they are wicked, are not endured with patience they would not attain their praiseworthy transformation" (Quaest. septend. in Ev. sec. Matth., 12, 4: PL 35, 1371).Dear friends, the Book of Wisdom — from which today's First Reading is taken — emphasizes this dimension of the divine Being and states: "Neither is there any god besides you, whose care is for all men.... For your strength is the source of righteousness, and your sovereignty over all causes you to spare all" (Wis 12:13, 16). And Psalm 86 [85] confirms it: "You, O Lord, are good and forgiving, abounding in steadfast love to all who call on you" (v. 5).Hence if we are children of such a great and good Father, let us seek to be like him! This was the aim Jesus set himself with his preaching; indeed, he said to those who were listening to him: "You... must be perfect, as your heavenly Father is perfect" (Mt 5:48). Let us turn with trust to Mary, whom we invoked yesterday with the title of Our Lady of Mount Carmel so that she may help us to follow Jesus faithfully, and so live as true children of God. – July 17, 2011
Sunday Readings
The first reading is taken from the Book of Wisdom 12:13, 16-19 where the author reminds us that the kind of judgment we receive depends not on the scales of godless justice, but instead on the mercy and love of God for those who strive to live life in response to His love. — A Celebrants Guide to the New Sacramentary - A Cycle by Kevin W. Irwin
The
second reading
is from the Letter of St. Paul to the Romans 8:26-27. The theme is the activity of the Spirit in helping us in our weakness to pray as we ought, for it is the Spirit who makes intercession for us and intercedes for us before God. —
A Celebrants Guide to the New Sacramentary - A Cycle
by Kevin W. IrwinThe
Gospel
is from St. Matthew 13:24-43. Today's parable is Christ's answer to the question so frequently asked: "Why does God permit evil to triumph so often in this world, why are the wicked allowed to prosper?" The triumph of the wicked is short-lived, the reward of the Christian who suffers from their wickedness is everlasting. The very wickedness and injustices of evil-doers are one of the ways that God uses to perfect his elect. It is only on a battlefield that a true soldier can be proved.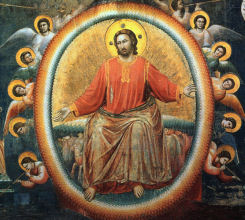 In the parable, the weed does not destroy the wheat. It only makes it more difficult for the wheat to grow to maturity. So it is with the Christian. No one can take his faith from him, but living up to it is made more difficult by the evil influence and bad example of sinners. If some succumb to this evil influence and give up the practice of their faith, the fault is theirs. God can force no man to serve him.The patience of the farmer in letting the weed grow on until harvest time, exemplifies the infinite mercy of God toward sinners. The weed could not change its nature, but the sinner can change his ways and God gives him every chance and every help to do this, up to his last moment of life. No sinner will be excluded from heaven because of the sins he committed but because he did not repent of these sins while he had the opportunity.We must learn a double lesson of patience from this parable. First, to be patient with those who make our spiritual progress more difficult for us—they are actually helping us to be better Christians if we bear with patience the injuries they inflict on us. Second, we must try to imitate the patience God shows in his dealings with sinners. While we must not approve of their evil deeds, or their sins, we must still look on them as our brothers and do all in our power to put them back on the right road to heaven. We can do this by good example, and by fervent prayer for their conversion. This is not easy for human nature, but we can be certain that God will give us the necessary grace and strength to subdue our natural weakness and aversion, if we try to act with charity and true brotherly interest toward our erring fellowmen.By acting thus, we will not only be helping a weak brother on the rugged road to heaven, we will also be making doubly sure of our own arrival there, for God will never be outdone in generosity. Excerpted from
The Sunday Readings
by Fr. Kevin O'Sullivan, O.F.M.