Move to:
Previous Day
|
Next Day
Ordinary Time: July 27th
Friday of the Sixteenth Week of Ordinary Time
Other Commemorations: St. Pantaleon, martyr (RM); St. Titus Brandsma, priest and martyr (RM)
» Enjoy our Liturgical Seasons series of e-books!
St. Pantaleon, one of the Fourteen Holy Helpers, was a physician, who practiced without payment, and who was martyred under Diocletian. His cultus is primarily connected with Bithynia, where Emperor Justinian rebuilt his church at Nicomedia. Churches are dedicated to him in Constantinople and Rome. In the East he is known as the Great Martyr and Wonder Worker. A reputed relic of Pantaleon's blood kept at Ravello in southern Italy displays the phenomenon of liquefaction on his feast day, similar to that of Saint Januarius. Before the reform of the General Roman Calendar his feast was celebrated today.
---
St. Pantaleon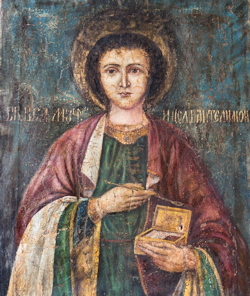 He was a celebrated "fee-less physician" from Nicomedia who placed his skill in the service of God's kingdom! According to legend he was the emperor's ordinary physician. He is said to have strayed from the faith because of the voluptuous life at the court, but the zealous priest Hermolaus, by pointing out the example of his virtuous mother, effected such a change that Pantaleon distributed his goods among the poor and devoted his talents for healing to the most wretched and poor among the sick.
Because of his Christian faith he was seized by order of Emperor Maximian, tied to the rack and scorched with torches. But in these tortures Christ appeared, granting him further strength. Finally a stroke of the sword ended his sufferings (Martyrology). He is the patron of physicians and belongs to the "Fourteen Holy Helpers."—Excerpted from
The Church's Year of Grace
, Pius Parsch
Patron:
bachelors; consumption; doctors; midwives; physicians; torture victims; tuberculosis; protection of domestic animals.
Symbols:
Budding olive branch or olive tree; vials of medicine; lion; club; sword and vase.
Things to Do:
---
St. Titus Brandsma
Anno Brandsma was born to Tjitsje and Titus Brandsma on February 23rd 1881 at Wonseradeel in Friesland, a province in the very north of Holland. The Brandsma family consisted of four girls and two boys, of which Titus was the second youngest. Five of the siblings would later enter religious life.
The family-owned a dairy farm and herd, selling milk and cheese made on the farm itself. At the time, Catholics were a minority in Friesland and protective of their religion and culture. Anno's father worked to preserve the Friesian culture within his family and the local community. He participated in politics, and at one time served as chairman of the local election board.When Anno had completed his secondary education at a Franciscan school, he decided to join the Carmelite Order. He began his novitiate at Boxmeer in September 1898 taking his father's name, Titus, as his religious name. He made his First Profession in October 1899 and was ordained a priest on June 17th, 1905.After further studies at the Gregorian University in Rome, he was awarded a Ph.D. in Philosophy in 1909.Titus also had a keen interest in both Spirituality and Journalism, two areas which, together with his academic pursuits, would make up much of his life's work.In 1923, Titus helped found the Catholic University of Nijmegan, and worked there as a lecturer, professor and administrator. He served as Rector Magnificus (President) during the academic year 1932-33.As a Carmelite friar, he also liked to share the Order's spiritual tradition with people outside of the University.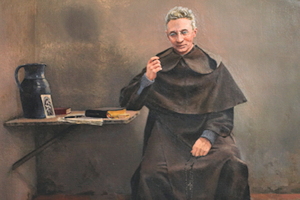 He traveled widely lecturing on Carmelite Spirituality. In preparation for a lecture tour in the United States in 1935, he spent some time at the Carmelite Priories in Whitefriar Street, Dublin, and Kinsale, Co. Cork, Ireland.Titus also cultivated his interest in journalism and publishing. In late 1935 he became the National Spiritual Adviser to the Union of Catholic Journalists. In this role, he encouraged opposition to the publication of Nazi propaganda in Catholic newspapers and in the Press generally. He was especially critical of its anti-Semitism.When the Nazis invaded Holland in May 1940, Titus was an adviser to the Archbishop of Utrecht. He encouraged the bishops to speak out against the persecution of the Jews and the infringement of human rights generally by the occupiers. In doing so, he became a marked man by the authorities.The refusal by Catholic newspapers to print Nazi propaganda sealed the fate of Titus. Titus had agreed to deliver personally to each editor a letter from the Catholic bishops. This letter instructed the editors not to comply with a new law requiring them to print official Nazi advertisements and articles. Titus had visited fourteen editors before being arrested by the Gestapo at Nijmegen on January 19th, 1942.Titus was interned at Scheveningen and Amersfoort in Holland before being transported to Dachau in June.
Under the harsh regime there, his health quickly deteriorated and he was in the camp hospital by the third week of July. He was subjected to biological experimentation before being killed by lethal injection on July 26th, 1942. On the day he died, the Dutch Bishops issued a pastoral letter protesting strongly against the deportation of Jews from Holland.Before his execution, Titus had prayed that God might help the nurse who would administer the injection to repent of her actions in the camp. He also gave her his rosary beads, although she protested that she was a lapsed Catholic. Some years later, that same woman came to a Carmelite priority asking forgiveness and was a witness in the process for his beatification, which took place in Rome on November 3rd, 1985. He was canonized by Pope Francis on May 15, 2022.—Excerpted from
Carmelites
Things to Do: