Catholic Activity: Celebrating for the Feast of Our Lady of Guadalupe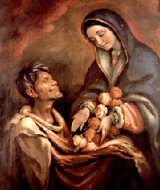 Here are some suggestions for devotions and practices for the feast of Our Lady of Guadalupe, including some background on this miraculous image.
DIRECTIONS
Since 1531, Our Lady of Guadalupe, or the Dark Virgin, as she is often called, has become the patron saint of the Mexican Republic. Historically and emotionally, the Virgin is deeply woven into the life of every Mexican. During the wars of independence she was the patroness of the Mexican armies Almost every Mexican town has a church dedicated to Our Lady of Guadalupe. And people turn to her for help and guidance on every occasion.
The festival of Nuestra Senora de Guadalupe actually begins a week before December 12. Thousands of pilgrims from all over the country—many traveling for a week on foot or by burro—flock to the Basilica of Ville Madero, on the outskirts of Mexico City, where the most impressive ceremonies in honor of the Virgin are held. The streets adjoining the church are literally packed with people who wait their turn to enter the church and make their offering.
The climax of the festival begins on the eve of December 12, when the conchero dancers gather in the atrium of the church. The name probably derives from the word concha, meaning "shell," because the mandolin-shaped instruments of the dancers are made of armadillo shells The dancing—hopping steps performed to the endlessly repeated accompaniment of one or two musical themes—begins at midnight and lasts throughout the day. Groups of dancers alternate to keep up the furious pace. The songs and dances of the concheros, who perform at fiestas all over Mexico, have been handed down through many generations and follow rigid traditional patterns.
Since it is a happy day for all Mexicans, food and drink are enjoyed by rich and poor alike, and many people will save up their money throughout the year for this special occasion.
Dinner Menu for Our Lady's Feast
Sopa de Espinaca con Codito (Spinach soup with macaroni)
Tacos (Stuffed tortillas)
Frijoles Negros (Black beans)
Mole Poblano (Chicken in spiced sauce)
Arroz (Rice)
Guacamole (Chopped avocados)
Cajeta (Boiled milk and sugar)
Flan (Custard)
Cafe con Leche (Coffee with milk)
Pulque / Tequila / Mezcal (Mexico's national drinks)
Activity Source: Festive Recipes and Festival Menus by Sula Benet, Abelard-Schuman Limited, 1970