Catholic trials and joys: Collected essays since 2019
By Dr. Jeff Mirus ( bio - articles - email ) | Jan 14, 2022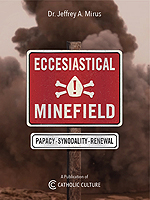 I recently reviewed all the essays I've written since March of 2019, which is the last time I had collected my writing on CatholicCulture.org into ebooks. The only exception was the combined essays on COVID written by Phil Lawler and myself, which we jointly published last November. So I have now generated all the other material in ebook form, available for free download by clicking on the cover images, or following the link given for each ebook.
Most of the items from this period that remain relevant deal with the problems in the Church today, the ways in which we are all distressed by the current ecclesiastical and cultural situation, and observations which (I hope) make it easier for all of us to live each day full of Christian hope. These emphases are reflected in the titles of the three new ebooks. The first one, entitled Ecclesiastical Minefield: Papacy, Synodality, Renewal, explores key issues in the Church today which rarely seem to live up to the promise of the high-sounding phrases used to describe them.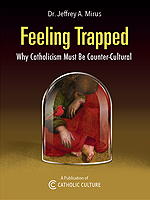 When we combine the challenges within the Church, the challenges to the Church raised by our dominant secular culture, and of course our own personal spiritual and moral challenges, it is all too common for Catholics today to feel trapped—to feel, in effect, that there is no way out of the perpetual problems afflicting the Body of Christ in this world.
The second set of essays tends mostly to address this issue, under the title of Feeling Trapped: Why Catholicism Must Be Counter-Cultural. We cannot begin to look at the Church, the world, and our own souls in positive ways unless we recognize that Catholics, despite the Church's tremendous influence on Western Civilization, have always been under severe pressure to compromise their faith, no matter the time or the place. Our Lord promised, in fact, that in the world we would have troubles (Jn 16:33).
Understanding that this sort of trouble a necessary part of Christian life is critical to tempering our expectations—that is, to have truly Christian expectations. This means, of course, living lives that in some significant measure must be full of sacrificial love.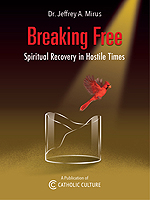 But it is precisely this understanding that liberates us. If we free ourselves from the idea that the Church and her members are supposed to be victorious in this world, we more easily recognize two important truths. First, that insofar as Church leaders seem to shift their emphasis in order to seek worldly approval, they are on exactly the wrong course. And second, that insofar as we either do the same thing or allow ourselves to become frustrated and unhappy with our trials, we are still trying to escape from the Christian life, instead of taking advantage of our friendship with God to live always in hope and joy.
The essays in the third collection, Breaking Free: Spiritual Recovery in Hostile Times, emphasize the increasing awakening of the Christ-life within us which gives us, as St. Paul wrote, "the glorious liberty of the children of God."
All of our ebooks are freely downloadable in three forms: .mobi (for Amazon Kindle); .epub (for standard ereaders); and .pdf (for all computer devices). You have to be registered and logged in. But just click the images or links above to go to the correct page for each ebook, and if you are not already recognized as registered, you'll find links to take care of that.
Sound Off!
CatholicCulture.org supporters weigh in.
All comments are moderated. To lighten our editing burden, only current donors are allowed to Sound Off. If you are a current donor, log in to see the comment form; otherwise please support our work, and Sound Off!