COVID ebook (free): A chronicle of Catholic catastrophe
By Dr. Jeff Mirus ( bio - articles - email ) | Nov 19, 2021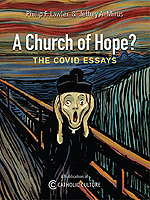 I'm convinced that one of the most useful Covid-related tasks you can perform is to read the commentaries by Phil Lawler (and also myself) on the response to Covid by the culture and the Church. The reason? So that you can understand the moral and spiritual issues—the truly Catholic issues—which the pandemic has raised for all of us and for the Church herself. Nothing puts Covid in perspective more fully or more clearly than an understanding of the spiritual pitfalls that have hampered an effectively Christian response.
Now you can do this easily, with CatholicCulture.org's Covid commentaries gathered together into one of our free ebooks. Just click the the cover image or this link for A Church of Hope? to pull up the free download page. You can download the ebook as a PDF file for nearly any computer device, or in the .mobi format for Kindle, or in the .epub format for standard e-readers.
You may be aware that the substance of Phil Lawler's Covid commentary in 2020 was published as a book entitled Contagious Faith by Sophia Institute Press. Those essays are not repeated in this latest collection, but you will find a link in the ebook to purchase Contagious Faith at a discount. Far more than that, you will find the 16 Covid essays Phil has written since December of 2020, and the 23 Covid essays I have written since the outset: Thirty-nine essays absolutely free of charge.
Let's face it: However we assess the medical seriousness of the pandemic, Covid has been disastrous for the Church because so many Catholic leaders have used physical health, physical care, and physical safety as an excuse to minimize spiritual health, spiritual care, and spiritual safety. For this very reason, charting a Christlike course through the Covid era has become a priority for each and every Catholic.
So download A Church of Hope? and feel free to pass it around. It's absolutely free. I believe these essays will help you and yours—if not my own writing, then certainly Phil Lawler's eloquent insistence on a faith-filled response to every human fear.
Sound Off!
CatholicCulture.org supporters weigh in.
All comments are moderated. To lighten our editing burden, only current donors are allowed to Sound Off. If you are a current donor, log in to see the comment form; otherwise please support our work, and Sound Off!
Posted by: miketimmer499385 - Nov. 19, 2021 4:34 PM ET USA

God bless you all. If there is one benefit from this covid debacle, it has outed the worst of the bishops and priests in the Catholic Church. I want to commend you again and would love to send hard copies to every cleric with the signature of St. Charles Borromeo as the gifter.