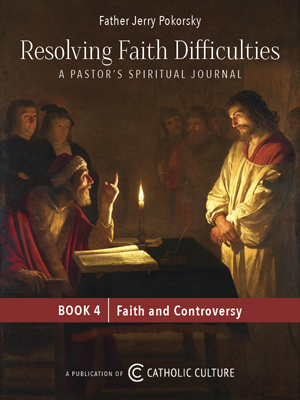 Resolving Faith Difficulties 4: A Pastor's Spiritual Journal
BOOK 4: Faith and Controversy
by Father Jerry Pokorsky
Book Description
In this very helpful collection of essays, Fr. Jerry Pokorsky addresses a great many of the problems and confusions in faith which have concerned Catholics over the centuries, and which seem especially widespread in the twenty-first century. This is the fourth volume of a series created from columns written in recent years for CatholicCulture.org. Its theme is Faith and Controversy.
Table of Contents
Introduction
Living on Borrowed Time
Happy warriors
No Ninnies
Don't try to put Jesus on Valium
Non-Conformists
Fear of Holiness
Remedies for Discouragement
Rackets
Jewish Humor
Prayer and Puppies
Seven lessons in forgiveness
No Sympathy for the Devil
Surveillance Spirituality
Cashing in on the Devil?
Expect a Miracle!
A Mother's Love
Peter's Tumultuous Vocation and Ours
Guardians of Common Sense
The Communist-Diabolical Conspiracy
Undermining the New Communist Menace
Freaks
Summer Cookouts and Party Politics
One Flew Over the Cuckoo's Nest
Clericalism and the Summer of Shame
The crisis: Déjà vu all over again
Going the Wrong Way with Studied Ambiguity
Tinkering with the Faith
The Silent Compliant Majority
The Continuing Scandal of the McCarrick Doctrine
Ending rule by the 'McCarrick Doctrine'
Fidel Castro, RIP?
In Gratitude for Joe Biden
Archbishop Cordileone & Speaker Pelosi in Perspective
White Knuckles
Maintaining Christian Charity in Times of Upheaval
Anatomy of the healing process
The Little Shop of Horrors
How to Conquer the World
Destined For Destruction
Special Issue: The Pandemic
Pondering the Pandemic
When the lights go on again
The dangers of proliferating Communion services
The dangers of live-streaming Masses
The Electronic Jesus
Virtual Indulgences?
How DARE you?