St. Cyril of Jerusalem—Mystagogical Lectures on the Eucharist
By James T. Majewski ( bio - articles - email ) | May 08, 2020 | In Catholic Culture Audiobooks (Podcast)
Listen to this podcast on: Apple Podcasts | Google Podcasts
Episodes in this podcast beyond the most recent 15 are limited to Catholic Culture subscribers only. Log in or subscribe now (free) to get all the episodes!

This is a listener-supported podcast! Thanks for your help!
Preview: "When the Master himself has explicitly said of the bread, 'This is my body,' will anyone still dare to doubt? When He is Himself our warranty, saying, "This is my blood," who will ever waver and say it is not His Blood?"
The contents of this item is restricted to subscribers only. Log in or subscribe for free!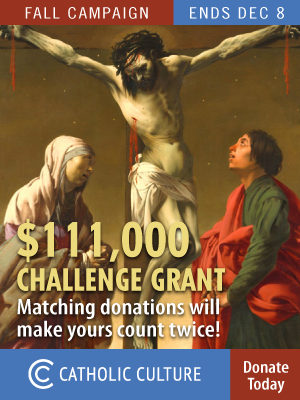 Sound Off!
CatholicCulture.org supporters weigh in.
All comments are moderated. To lighten our editing burden, only current donors are allowed to Sound Off. If you are a current donor, log in to see the comment form; otherwise please support our work, and Sound Off!