everybody loves roger
By Diogenes ( articles ) | Feb 03, 2006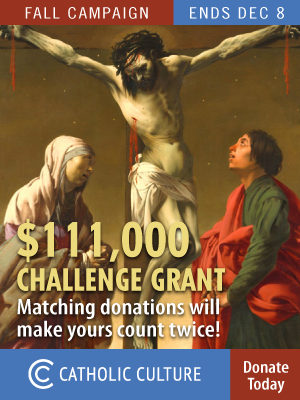 Cardinal Roger Mahony has been in the forefront of ensuring the safety of parishes and parish schools through the establishment of the Office of Safeguard the Children and the adoption of rigorous archdiocesan policies.
Cardinal Roger Mahony in the forefront? Sez who?
Well, Cardinal Roger Mahony (with the gracious assistance of your financial contribution, of course):
This weekly series of feature stories, commentary and analysis is compiled and edited by an advisory group to the Media Relations Office of the Archdiocese, through which the articles are distributed. The series --- which began in The Tidings on Nov. 18 --- is designed to offer the perspective of the local church relative to the clergy sexual abuse situation.
"Designed to offer the perspective of the local Church..." Oh, I get it. It's your opinion too.
Sound Off!
CatholicCulture.org supporters weigh in.
All comments are moderated. To lighten our editing burden, only current donors are allowed to Sound Off. If you are a current donor, log in to see the comment form; otherwise please support our work, and Sound Off!