contradiction
By Diogenes ( articles ) | May 27, 2008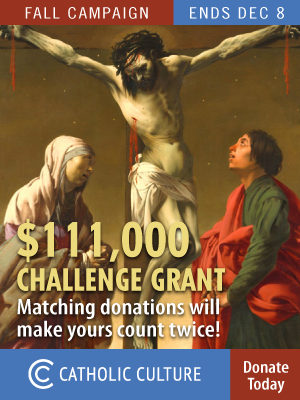 In the current First Things, Caitrin Nicol reviews Steve Talbott's Devices of the Soul, in the course of which she quotes a book by Martha Beck called Expecting Adam, which tells "how a couple of bright young grad students barreling down the fast track at Harvard were derailed by the arrival of a son with Down syndrome."
When Beck first finds out that her baby has Down syndrome, she is pressured on all sides -- by professors, colleagues, doctors, and at times even her husband -- to have an abortion. Having no idea why, and though pro-choice in principle, she cannot bring herself to do it. "'I don't know,' I mumbled to [an aggressive obstetrician], 'I guess I just ... can't reject him.' It was a miserably inadequate statement. My real feeling, the one I couldn't articulate yet, was that my entire life hinged on knowing that there were people who would continue to love me unconditionally, even if I were damaged, even if I were sick. Such love was the only thing that had sustained me during the turmoil of the past months. If I eliminated my child because of his disability, if I put him out of my life, I would be violating the only thing that was keeping me alive. I'd be ripping the rug out from under my own feet."
It's telling that Beck's feeling of reluctance to dispatch her child developed earlier than her ability to express herself on the matter. As a grad student she was operating in a highly cognitive environment where the inability to articulate reasons for a proposed course of action stigmatizes that course of action as irrational -- she feels her explanation for refusing to reject the life vouchsafed to her keeping was "miserably inadequate" -- and this makes her resolve to resist the all-too-cogent pressure to abort all more moving and commendable.
Beck had been taught what she needed to know by the realization that she herself would continue to be an object of love even if that love became onerous. Gilbert Meilaender, in an essay (in an earlier First Things) called "I Want to Burden My Loved Ones," argues that this willingness to put up with uncovenanted hardships is a key element of moral wisdom:
Is this not in large measure what it means to belong to a family: to burden each other -- and to find, almost miraculously, that others are willing, even happy, to carry such burdens? Families would not have the significance they do for us if they did not, in fact, give us a claim upon each other. At least in this sphere of life we do not come together as autonomous individuals freely contracting with each other. We simply find ourselves thrown together and asked to share the burdens of life while learning to care for each other. ... Here more than in any other sphere of life we are presented with unwanted and unexpected interruptions to our plans and projects. I do not like such interruptions any more than the next person; indeed, a little less, I rather suspect. But it is still true that morality consists in large part in learning to deal with the unwanted and unexpected interruptions to our plans.
The magnitude of the "interruption" consequent on the arrival of a child with Down syndrome or an equivalent disability is difficult to exaggerate, and the families that -- in our time especially -- take up this burden deserve our admiration. It's hard to think of a Sign of Contradiction more wholesomely disruptive of the values urged on us by the culture of complacent heathendom. It speaks to people.
Sound Off!
CatholicCulture.org supporters weigh in.
All comments are moderated. To lighten our editing burden, only current donors are allowed to Sound Off. If you are a current donor, log in to see the comment form; otherwise please support our work, and Sound Off!