Opinion, Privacy, America and God
By Dr. Jeff Mirus ( bio - articles - email ) | May 27, 2008
After last week's column on contraception, I received some emails from people who insist that the decision to contracept is purely private, and so the Church has no business attempting to control our behavior. Reading these emails led me to wonder if such people will ever understand that the moral order is an objective reality to which their own opinions must be conformed for their own good. Hard as it may be to fathom, this good depends neither on our own personal opinions nor on our right to privacy.
The Good, American Style
It is said that when Lucifer saw that God would become Incarnate, implying that Lucifer himself would be obliged to acknowledge the superiority of a man, He refused that possibility and so rebelled against God. Apparently it was Lucifer's opinion that the Incarnation was a purely private affair, and that if God wanted to do something so bizarre, He should at least have the decency to keep it to Himself. Perhaps Lucifer spoke with a typically American voice: "Why can't God distinguish private from public and leave the rest of us alone? Why can't God be more like us?"
When Pope Benedict, speaking to Europeans, recently suggested that American secularity can be a fruitful model, he was referring to the American tradition of separating Church and State without separating religious morality from public life. By "religious morality" I mean the attempt to discern the natural moral law in the light of Revelation. This tradition provides a much healthier model of secularity than the contemporary model in Europe, where secularists typically seek to drive both religion and morality out of public life altogether. Nonetheless, the overwhelming majority of Benedict's speeches during his pastoral visit to the United States were directed toward proper moral formation, and particularly against the growing American tendency, both inside and outside of the Church, to privatize and relativize both religious and moral truths, thereby robbing them of their governing force in human affairs.
Many Americans have succumbed to the temptation of declaring all uncomfortable truths to be private, making them relative in the sense that they cannot demand a positive, life-changing response from anyone who is not already persuaded of their importance. Thus, the Church has no business attempting to achieve a wider adherence to her teachings on "private" matters such as contraception (or anything else the prevailing culture finds difficult to accept, like the protection of unborn children). In fact, she shouldn't even be meddling in the "private lives" of her members. On this reading of reality, there are only two significant goods: Those which my own opinions lead me to believe are appropriate for myself as a private person, and those which the larger culture generally accepts as important to public order. Worse, once the larger culture loses sight of any given truth, it follows that this truth will be declared a "private matter" as surely as night follows day.
The Good, Catholic Style
The Catholic conception of the good is very different. Goodness and truth are integral features of reality itself. As such they are neither private nor subjective, but manifestly objective and necessarily common to all. St. Augustine wisely commented that anyone who speaks only from within himself speaks a lie: Truth belongs to everyone; it is something that we tap into, not something that we make up. For the Catholic, then, the key question about the relationship of universal truth and goodness to the public order is not a question of whether some principles are private or relative, but whether some principles ought not to be publicly enforced for fear of interfering with the liberty necessary to fully embrace truth and goodness. Thus every truth and every absolute moral good is to be upheld as important for everyone, but only some truths and goods are to be publicly enforced.
Traditionally, the line for public enforcement of the good has been drawn along the border at which the natural law intersects with Revelation. Truths and goods known through the natural law are accessible to all, and so it is reasonable to expect all to live in accordance with them, and even to compel compliance wherever this is both possible and necessary to the common good. On the other hand, it is not reasonable for anyone to be compelled to live in accordance with truths and goods which can be known only through the voluntary assent of Faith to Revelation. Here a due freedom must be protected; otherwise the normal operations of Faith would actually be impeded, and grave injustice would be done to those who have travelled very little or not at all down that road.
It is important to grasp this vast difference between the privatization and relativization of truth on the one hand and, on the other, the recognition that truth and goodness, while universal, ought not in every instance to be publicly enforced. God would indeed be more like an American if He could bring Himself to admit that the applicability of moral truths and spiritual goods depends solely on some combination of our own personal opinions with our culture's widely-shared perceptions. But He would also then be a liar and a thief, for as He brings us all to life in the same universe, so truth—which is the mind's conformity with reality—is the common property of all.
The Catholic Gift
Of course there can be many arguments over the meaning of the natural law. No single person has a sufficiently clear and powerful intellect to interpret it properly in each and every instance. For this reason, it is a great gift that the authority of the Church, so useful in articulating the truths of Revelation, is also able to apply the light of Faith to natural things in order to infallibly interpret their moral content. The prohibitions of murder and theft, revealed in the Ten Commandments, are two widely accepted instances in which Revelation confirms and clarifies the natural law—though we see in abortion and euthanasia that even such widely-accepted truths are being increasingly privatized. It so happens that, despite some of the emails I receive, the teaching of the Magisterium confirms that the prohibition of contraception is in the very same category as theft and murder. Pope Paul VI explained this clearly in Humanae Vitae:
No member of the faithful could possibly deny that the Church is competent in her magisterium to interpret the natural moral law. It is in fact indisputable, as Our predecessors have many times declared, that Jesus Christ, when He communicated His divine power to Peter and the other Apostles and sent them to teach all nations His commandments, constituted them as the authentic guardians and interpreters of the whole moral law, not only, that is, of the law of the Gospel but also of the natural law. For the natural law, too, declares the will of God, and its faithful observance is necessary for men's eternal salvation.
The successful pursuit of truth and goodness is not only worthwhile for its own sake but integral to human well-being and happiness. The ultimate expression of this pursuit is the glory given to God through ever-increasing union with Him. This too is worthwhile for its own sake and, as Pope Paul makes clear in the preceding citation, it is necessary for each person's eternal salvation. So, to my very dear but very confused readers, I request that you opinion me no more opinions. It is the very highest of human priorities to recognize that personal opinions have value only insofar as they are true and good, that is, insofar as they are conformed to reality. For this reason alone, the Magisterium of the Catholic Church is an incomparable gift, saving us endless trouble by setting us firmly on the right road to truth, goodness, happiness and salvation.
The conclusion is inescapable: It is the highest possible folly to reject the Magisterium on grounds of personal opinion or personal privacy, as if truth and goodness can be privatized and relativized until they are rendered irrelevant to human flourishing. It takes wisdom born of humility to recognize that we must revise our opinions in the light of Church teaching, and that we must be committed to the good even when it is not publicly enforced—indeed, even when it is not publicly recognized. Like it or not, there is no question of God becoming more like us. If we're willing, however, we can become more like God.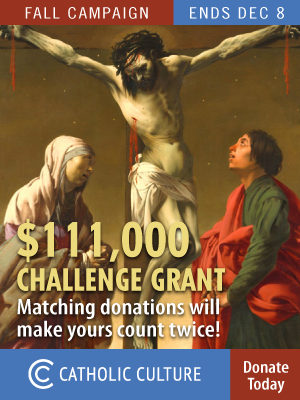 Sound Off!
CatholicCulture.org supporters weigh in.
All comments are moderated. To lighten our editing burden, only current donors are allowed to Sound Off. If you are a current donor, log in to see the comment form; otherwise please support our work, and Sound Off!