Catholic Recipe: Christstollen III (Stollen)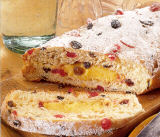 To my mind, the ultimate in Christmas breads is the famous German Stollen. If you were French, you would choose Brioche or Galette. If you were Scotch, you might long for a Yuletide Bannock. If you were Bohemian, you would want Vanocka. But, since you are American, you may have all five. I advise that you use one sweet bread one year and another the next.
The shape of the German Stollen is supposed to represent the Christ child. The folds in the dough on the top of the loaf should remind you of swaddling clothes. When you bake your Stollen, give it plenty of room in the pan so the shape will be sure.
DIRECTIONS
Dissolve yeast and teaspoon of sugar in warm water. Cover and allow to rise. Cream shortening and sugar. Add eggs and scalded milk that's been cooled to lukewarm. Alternate with flour sifted with salt and nutmeg. Add yeast mixture. Knead until smooth and add fruits and flavorings. Cover and let dough rise to double its bulk. Knead dough again. Shape dough into ropes about one and one-half inches in diameter.
For each large Stollen, make one rope three feet long and two that are two and one-half feet long. Braid the dough. Bring the braid to a point at either end. Place the braid on a greased cookie sheet. Bake in a hot oven (400°) for 25 minutes, or until brown. This recipe will make two large Stollen.
Recipe Source:
Cooking for Christ by Florence Berger, National Catholic Rural Life Conference, 4625 Beaver Avenue, Des Moines, IA 50310, 1949, 1999