Catholic Recipe: Roast with Vegetables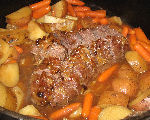 Easy dinner to make and enjoy.
DIRECTIONS
Preheat oven to 350°.
Wash and quarter potatoes.
Rinse the roast and put it into a Dutch oven.
Add the potatoes and the carrots.
Add enough water to come about halfway up the side of the roast.
Add the bouillon to the water.
Sprinkle the top of the roast with the onion soup mix.
Cover and cook until the potatoes and carrots are soft and a meat thermometer shows the roast is done.