Catholic Recipe: Roasted Garlic Bread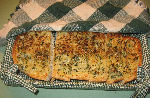 Easy and delicious!
DIRECTIONS
Preheat oven to 350°.
Slice the tops off the garlic bulbs so that the tip of each clove is exposed. Place the bulbs on a baking sheet and drizzle with olive oil. Bake for 30 minutes or until the garlic is soft.
Set oven to broil. Slice the loaf in half horizontally, and place cut side up on the baking sheet.
Squeeze cloves of garlic from the skin into a medium bowl. Stir in the butter, parsley and parmesan until well blended. Spread onto the bread.
Broil for about 5 minutes or until toasted.