Catholic Recipe: Homesteader Cornbread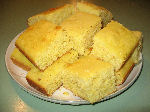 This moist cornbread is a good accompaniment to chili on cool fall evenings.
DIRECTIONS
Preheat oven to 400°. In a small bowl, combine corn meal and milk; let stand for 5 minutes. Grease a 9x13 inch baking pan.
In a large bowl, whisk together flour, baking powder, salt and sugar. Mix in the cornmeal mixture, eggs and oil until smooth. Pour batter into prepared 9 x 13 pan.
Bake in preheated oven for 30 to 35 minutes, or until a knife inserted into the center of the cornbread comes out clean.
Recipe Source:
All Recipes Cookbook , Oxmoor House, Inc., 2002