Catholic Recipe: Green Bean Stir-Fry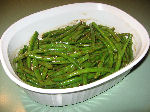 This recipe is a nice change from the usual green bean salads and casseroles.
DIRECTIONS
In a bowl, combine the soy sauce, garlic, sesame seeds, brown sugar and peanut butter; set aside.
In a large skillet, stir-fry the green beans in oil until crisp-tender. Remove from the heat. Add the soy sauce mixture; stir to coat.
Recipe Source:
Taste of Home