Catholic Recipe: Colony Mountain Chili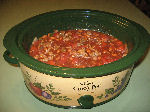 This slow cooker recipe is a nice twist to typical chili.
DIRECTIONS
In a large skillet, brown the beef and sausage in 1 tablespoon oil; drain. Transfer meat to a 5-qt. slow cooker. In the same skillet, saute the onion, garlic and green onions in remaining oil until tender. Transfer to slow cooker.
In a small bowl, dissolve bouillon in water. Stir in the tomato paste, chili powder, brown sugar, Worcestershire sauce and seasonings until blended; add to slow cooker. Stir in tomatoes and beans. Cover and cook on high for 6-8 hours or until meat is tender. Serve with cheese if desired.
Recipe Source:
Taste of Home