Move to:
Previous Day
|
Next Day
Ordinary Time: August 17th
Tuesday of the Twentieth Week in Ordinary Time
» Enjoy our Liturgical Seasons series of e-books!
Previous Calendar: Our Lady of Knock (Ire); St. Hyacinth
According to the previous calendar (1962), today is the feast of St. Hyacinth, a canon of Krakow, who joined the Dominican Order in Rome during the lifetime of the founder, in about the year 1217. He returned to Krakow with the first band of Dominican missionaries. The newcomers spread over all the northern countries into Russia, the Balkans, Prussia and Lithuania. St. Hyacinth preached the crusade against the Prussians. He died on the feast of the Assumption, 1257.
Today in Ireland is the Memorial of Our Lady of Knock, celebrating the apparition of Our Lady, St. Joseph, St. John the Evangelist, a Lamb and cross on an altar on the wall of the parish church in the village of Knock in County Mayo on August 21, 1879. See
August 21
for more ideas to celebrate this feast.
---
St. Hyacinth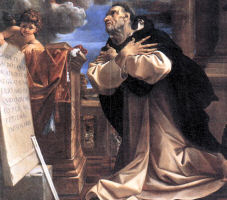 While a canon at the cathedral of Cracow, Hyacinth journeyed to Rome, was impressed by the preaching and miracles of St. Dominic, and from the hand of Dominic himself received the habit of the newly-founded Order. Upon returning to his native land (1219), he established monasteries of his Order beyond the Alps at Friesach, Prague, Olmiitz, and Cracow.
From the Breviary we have this miracle. With three companions Hyacinth had arrived at the banks of the river Weichsel during their journey to Vischegrad, where they were expected to preach. But the waters had risen so high and had become so violent that no ferryman dared to cross. The saint took his mantle, spread it out before him, and with his companions rode across the raging waters. After saying his Office for the day, he died in 1257 with these words on his lips: "Into Your hands, Lord, I rest my spirit!" --Excerpted from
The Church's Year of Grace
, Pius Parsch
Patron:
Poland
Symbols:
Pyx; staff; cloak; scorpion.
Things to Do:
The Church's night prayer, Compline, especially the closing invocations, serves as a fitting preparation for death. The two death scenes strike home with telling impact. Christ, hanging on the Cross, is uttering His last word: "Father, into Your hands I rest My spirit." Meditatively we repeat the words and entrust our souls to the care of Christ in sleep, and if need be, in death. For Hyacinth it actually was his dying invocation. The second scene. The aged Simeon is singing: "Now You may dismiss Your servant in peace." How appropriate as one's last day approaches!

See this Dominican site for an excerpt from the Life of Saint Hyacinth.