Move to:
Previous Day
|
Next Day
Ordinary Time: November 26th
Thursday of the Thirty-Fourth Week of Ordinary Time; Thanksgiving Day
Other Commemorations: St. Sylvester, abbot (RM); St. Leonard of Port Maurice, priest (RM)
» Enjoy our Liturgical Seasons series of e-books!
According to the 1962 Missal of St. John XXIII the Extraordinary Form of the Roman Rite, today is the feast of St. Sylvester. He was the son of a lawyer and had also studied law before becoming a canon in his native town of Osimo. He was a zealous and fervent priest. His determination to retire into solitude was caused by the sight of the decomposing corpse of a friend. He at first lived as a hermit at Grotta Fucile, and then on Monte Fano where followers came to join him. He gave them the habit and Rule of St. Benedict together with certain other customs which reflect his own aspirations and the devotional tendencies of his day. He died in 1267 at the age of ninety.
It is also the commemoration of St. Peter, Bishop of Alexandria, who was beheaded on November 25, 311, during Maximinus Daia's persecution. He was a great bishop, famous for wisdom and holiness; "a model of charity and zeal, severe towards himself, merciful to sinners, a divine model of the Christian teacher," says Eusebius.Historically today the feasts of St. John Berchmans, priest and St. Leonard of Port Maurice, priest are celebrated.
---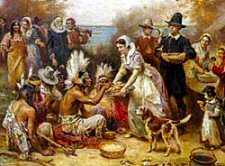 Many people assume that the United States has celebrated Thanksgiving Day since the time of the pilgrims as a sign of thanksgiving for the harvest season. This is not exactly true. President Abraham Lincoln instituted the holiday in 1863 during the Civil War. However, he did not have the harvest in mind. He wanted Americans to celebrate the holiday as a sign of unity and thanksgiving to God.
I do therefore invite my fellow citizens in every part of the United States, and also those who are at sea and those who are sojourning in foreign lands, to set apart and observe the last Thursday of November next, as a day of Thanksgiving and Praise to our beneficent Father who dwelleth in the Heavens" (President Abraham Lincoln, Proclamation, October 3, 1863).
There is no American holiday that so closely resembles the symbolism and meaning of the sacrament of the Eucharist. We celebrate Thanksgiving as a sign of American unity and thanksgiving to God who has given us great gifts.
Excerpted from
The Religion Teacher
For more information please see
Thanksgiving Day
.
---
St. Sylvester
Abbot Sylvester founded the Sylvestrine Order, a reform congregation of the Order of St. Benedict, in 1231. Upon seeing the corpse of an aristocrat relative, who had been very handsome, in the coffin, he cried out, "I am what this man was, I will be what this man is!" After the funeral services the words of our Lord kept ringing in his ears, "If anyone wishes to come after Me, let him deny himself, and take up his cross and follow Me" (Matt. 16:24). He betook himself to a hermitage, led a life of perfection, and died at the age of ninety in 1267.
The members of his Order wear a Benedictine habit, Turkish blue in color. Today there remain seven Sylvestrine monasteries in Italy and several mission houses in Ceylon and in the United States. —Excerpted from
The Church's Year of Grace
, Pius Parsch.
Things to Do:
---
St. Leonard of Port Maurice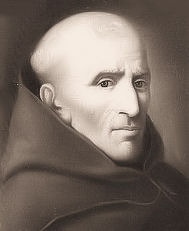 Leonard, called "the great missionary of the 18th century" by Saint Alphonsus Liguori, was another Franciscan who tried to go to the foreign missions (China), failed at that and succeeded tremendously in some other work.
Leonard's father was a ship captain whose family lived in Port Maurice on the northwestern coast of Italy. At 13, Leonard went to Rome to live with his uncle Agostino and study at the Roman College. Leonard was a good student and was destined for a career in medicine. In 1697, however, he joined the Friars Minor, a decision that his uncle opposed bitterly.After ordination Leonard contracted tuberculosis and was sent to his hometown to rest or perhaps to die. He made a vow that if he recovered he would dedicate his life to the missions and to the conversion of sinners. He soon was able to begin his 40-year career of preaching retreats, Lenten sermons and parish missions throughout Italy. His missions lasted 15 to 18 days, and he often stayed an additional week to hear confessions. He said: "I believe that in those days the real and greatest fruit of the mission is gathered. As much good is done in these days as during the mission."As a means of keeping alive the religious fervor awakened in a mission, Leonard promoted the Stations of the Cross, a devotion which had made little progress in Italy up to this time. He also preached regularly on the Holy Name of Jesus.Since he realized that he needed time simply to pray alone, Leonard regularly made use of the ritiros (houses of recollection) that he helped establish throughout Italy.Leonard was canonized in 1867; in 1923 he was named patron of those who preach parish missions.—Excerpted from
Saint of the Day
by Leonard Foley, O.F.M.; revised by Pat McCloskey, O.F.M.
Things to Do: