Move to:
Previous Day
|
Next Day
Ordinary Time: September 9th
Memorial of St. Peter Claver, priest
Other Commemorations: St. Gorgonius, martyr
» Enjoy our Liturgical Seasons series of e-books!
Peter Claver was born of a distinguished family in Catalonia, Spain. He became a Jesuit in 1604, and left for Colombia in 1610, dedicating himself to the service of black slaves. For thirty-three years he ministered to slaves, caring for the sick and dying, and instructing the slaves through catechists. Through his efforts three hundred thousand souls entered the Church. He is the Patron of the Negro Missions.
According to the 1962 Missal of St. John XXIII the Extraordinary Form of the Roman Rite, today is the feast of St. Gorgonius. Two martyrs named Gorgonius suffered during Diocletian's persecution. One, a Roman, is buried on the Via Labicana; the other, a high court functionary at Nicomedia in Asia Minor, was one of Diocletian's first victims. Later the two were confused and the name Gorgonius occurs only once in the Roman Martyrology.
---
St. Peter Claver
Peter was born of a distinguished family in Catalonia, Spain in 1581. He joined the Society of Jesus (Jesuits), and after his novitiate in Taragona was sent to the college of Montesione, at Palma in Majorca. There he met Brother Alphonse Rodriguez (also a saint), the humble porter of the convent. Alphonse set Peter's soul on fire to save the souls of the African slaves — thousands being lost because there was no one to minister to them. His superiors finally sent Peter to New Granada in April of 1610. He was never to return to his native Spain.
By 1615 Peter finished his studies and was ordained a priest in Cartagena. When he made his final vows, he added a personal one:
Peter, slave of the slaves for ever.
Here in this busy seaport city, in a hot, humid, tropical climate, Father Claver spent most of his priestly life. Cartegena was the principal slave market for the New World. Thousands of blacks were brought there, herded into warehouses and auctioned to the highest bidder. Captured in Africa, these slaves were chained in groups of six and crammed into the lower holds of ships designed to hold 100-200, but holding 600-800 humans. Their treatment was so inhumane that 1/3 of the slaves died in the sea journey.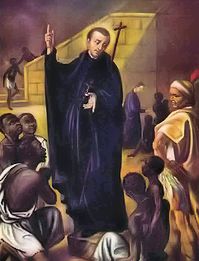 It was to these people that Peter would minister. He would meet each slave ship as it arrived. Peter would go to the warehouses and bring them food, water, medicine and clothing, for, as he said "We must speak to them with our hands, before we try to speak to them with our lips". But most of all, he brought them God. While nursing them back to health, he would teach them of Christ, explain to them that they were loved by God more than they were abused by man, and that evil outraged God. He offered their only consolation: hope in the promises of God. Nearly three hundred thousand of them received baptism at his hands.After twenty-seven years of devotion to the black slaves, St. Peter Claver died at Cartagena on September 8, 1654. Leo XIII canonized him on January 15, 1888, proclaiming him special patron and protector of the negroes. St. Alphonsus Rodriguez, porter of the college, who inspired Peter to become a missionary for the slaves was canonized at the same time.
Patron:
against slavery; foreign missions; black people; race relations; Colombia; diocese of Shreveport, Louisiana; diocese of Lake Charles, Louisiana.
Symbols:
ship; cockle shell used for baptizing; usually pictured baptizing a black slave.
Things to Do:
---
St. Gorgonius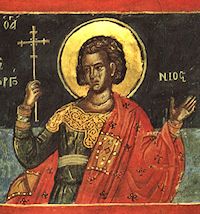 There are two martyrs with this name, a source of considerable confusion. The one was born in Nicomedia and was martyred under Diocletian. Concerning him is the following legendary account: "Gorgonius, a native of Nicomedia, served as a treasurer to Emperor Diocletian. Aided by one of his colleagues, Dorotheus, he converted his fellow officials to the Christian faith. On one occasion, upon witnessing the cruel torturing of a martyr in Diocletian's presence, both Gorgonius and Dorotheus were moved to become martyrs themselves. Fearlessly they addressed the Emperor: 'O Caesar, why do you restrict your punishments to this one witness? Both of us profess the same faith against which you inflict so dire a judgment. See, we are ready to undergo the same suffering.' Without delay the Emperor had them put into irons; he ordered their wounds to be washed with salt and vinegar before tying them to a heated grill. After further torture, they were hanged, about the year 303."
The other Gorgonius to whom we referred above was a Roman martyr. His first burial place was on the Via Lavicana in the cemetery between the two laurels; during the pontificate of Gregory IV (827-844) his remains were transferred to St. Peter's. Actually it was the Roman Gorgonius whose feast was kept today, and who was confused with the better known Nicomedian. —Excerpted from
The Church's Year of Grace
, Pius Parsch
Things to Do:
The Postcommunion prayer (Tridentine Liturgy) is particularly beautiful: "May eternal bliss shine upon and gladden Your family, Lord; for through Your martyr Gorgon we are steeped at all times in the sweet odor of Christ." This prayer indeed indicates how highly the ancient Church respected martyrs. Let us realize that we are a great family whose most illustrious members are those who have died for the faith. From their passion we still draw benefit; and we should rejoice spiritually over them. Pray that you will have the grace to always stand up for your belief in Christ, even if it should cost you your life.