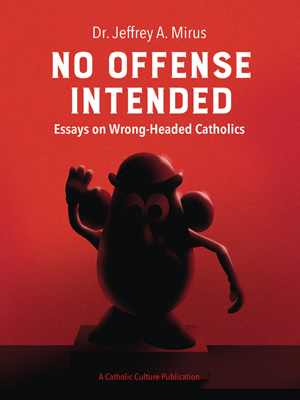 No Offense Intended
Essays on wrong-headed Catholics
by Jeffrey A. Mirus
Book Description
This collection of essays, written between early 2017 and early 2019, includes the most strongly-worded commentaries by Dr. Jeffrey Mirus on the troubles created for the Church by wrong-headed Catholics, especially those in high places. But the author is as likely to set his sights on all of our shortcomings as he is to criticize Catholic leadership. Topics range from the frequent haplessness of the Catholic hierarchy to misunderstandings of the relationship between Church and State to the widespread confusion between Catholic teaching and our own national ideals.
Table of Contents
Introduction: Responding to absurdity in today's Church
Denunciation, condemnation and dire warnings: Can these be Christian?
Why is there a resurgence of infidelity among Catholic leaders?
Let's get this straight: Concern about Pope Francis is not rooted in dissent, but in dismay.
Out of Africa: The Church's need for living rules
The bishops and moral pragmatism, with immigration as a case study
A new legalism denies the moral content of moral rules.
Curmudgeon's Corner: The case against Catholic apologies
On the lunatic fringe, Francis is not the Pope
Theories that Francis is not the Pope destroy the credibility of the Church's Divine Constitution.
The bishops and tax policy: Missing not just the big picture but God's picture?
Have good and evil changed? The Pontifical Academy for Life wants to know.
Is it wrong for women religious to serve priests and bishops?
Political holiness? More on Gaudete et Exsultate!
Mercy vs. Truth: The mark of hypocrisy
Authentic religion: Not what we want, what God has revealed
Crosses on public buildings: Yes or No?
Will Pope Francis now discourage "discerning away" impediments to Communion?
Alas, poor Cupich. I knew him, Horatio.
"Accusers", Archbishop Viganò, and the inspiration of the Holy Spirit
Crime and punishment: A papal bull in the Church's china shop
The Catholic Faith: Are we looking for challenge or change?