Move to:
Previous Day
|
Next Day
Easter: May 21st
Optional Memorial of St. Christopher Magallanes, priest and martyr, and his companions, martyrs; Optional Memorial of St. Eugene de Mazenod, bishop (Canada)
» Enjoy our Liturgical Seasons series of e-books!
In 1815, St. Eugene de Mazenod founded the Congregation of the Oblates of Mary Immaculate to evangelize the poorest populations of Provence that were being neglected. He then sent his missionaries to proclaim the Gospel in America, South Africa and Asia. Later on, he was appointed Vicar General of Marseilles and, in 1836, Bishop of this same diocese. Until his death on May 21, 1861, he was at the service of his people with an extraordinary pastoral charity, nourished by an intense interior life. In his city, rapidly developing at the time, he created numerous parishes, built new churches and installed new Religious Institutes. — Cardinal Bernard Gantin
Saint Christopher Magallanes was joined in martyrdom by twenty-one diocesan priests and three devout laymen, all members of the Cristeros movement, who rose up in rebellion against the anti-Catholic Mexican government during the 1920s. Having erected a seminary at Totatiche, he secretly spread the Gospel and ministered to the people. Captured by government authorities, he was heard to shout from his jail cell: "I am innocent and I die innocent. I forgive with all my heart those responsible for my death, and I ask God that the shedding of my blood serve the peace of our divided Mexico."
---
St. Eugene de Mazenod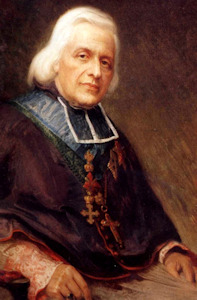 St. Eugene De Mazenod, refused to follow the established modes expected of someone born into nobility. From an early age, Eugene was troubled by the living conditions of the poor and their degraded status in society. When he became a priest, Eugene was not satisfied to accept the traditional role of a pastor serving a large, affluent parish. Instead, he sought out the poor laborers and preached the message of God's love — a message they had not heard before.
Born in France in 1782, Eugene lived amid turmoil in his country and in his family. Although he grew up with the privileges and luxuries of wealth, his family life was far from ideal. His parents came from very different backgrounds and they eventually divorced, a rarity for Catholics in the 18th century.As the French Revolution grew, Eugene's family was forced into exile, and at different times, he was separated from his mother or father for years at a time. After years of struggling to find his place in life, Eugene experienced a conversion at the age of 25 and entered the seminary. He was ordained a priest in 1811. In 1816, Eugene invited others to join in his ministry to the poor and founded the Missionary Oblates of Mary Immaculate. Since that time, thousands of Oblate priests and brothers have dedicated their lives to serving those most in need. He died on May 21, 1861.On December 3, 1995, Pope John Paul II canonized Eugene De Mazenod a saint and recognized his example of untiring dedication to the poor. — Excerpted from Missionary Oblates of Mary Immaculate Website
Patron:
Dysfunctional families.
Things to Do:
---
St. Christopher Magallanes and Companions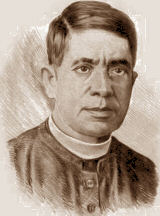 Like Blessed Miguel Agustin Pro, S.J. (November 23), Cristobal and his twenty-four companion martyrs lived under a very anti-Catholic government in Mexico, one determined to weaken the Catholic faith of its people. Churches, schools and seminaries were closed; foreign clergy were expelled. Cristobal established a clandestine seminary at Totatiche, Jalisco. Magallanes and the other priests were forced to minister secretly to Catholics during the presidency of Plutarco Calles (1924-1928).
All of these martyrs except three were diocesan priests. David, Manuel and Salvador were laymen who died with their parish priest, Luis Batis. All of these martyrs belonged to the Cristero movement, pledging their allegiance to Christ and to the church that he established to spread the Good News in society—even if Mexico's leaders had made it a crime to receive baptism or celebrate the Mass. These martyrs did not die as a single group but in eight Mexican states, with Jalisco and Zacatecas having the largest number. They were beatified in 1992 and canonized eight years later. — Excerpted from
Saint of the Day
, Leonard Foley, O.F.M.