Move to:
Previous Day
|
Next Day
Lent: March 13th
Tuesday of the Fourth Week of Lent
Other Commemorations: St. Roderick, martyr (RM)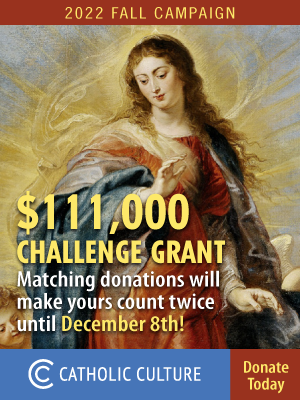 » Enjoy our Liturgical Seasons series of e-books!
On the Cross, Christ is both priest and victim; he fulfills Isaiah's description of him as the suffering servant. And the whole of his teaching is to make us ready to live our sacramental life in his spirit of sacrifice. He impressed on us that we must match the outward sign of his sacraments in our lives. When we became other Christs in Baptism, we became other Christs in Baptisms, we became sharers in the priesthood of the Lord. We gained the ability and the responsibility of combining our inward obedience with every outward act of sacrifice that we make as priests and victims. In every Mass, then, we agree to offer our obedience to atone for, to correct the disobedience of sin. On his part, Christ agrees to renew his sacrifice of atonement and obedience, in which we join; and to nourish us on the victim, his flesh and blood, the covenant food.
—St. Andrew Bible Mission Historically today is the feast of St. Roderick of Cordoba, a priest and martyr who lived in Moorish Spain in the 9th century. He was beheaded in 857.
---
Confidence and Union with God in Temptation
Nothing is more efficacious against temptation than the remembrance of the Cross of Jesus. What did Christ come to do here below if not to "destroy the works of the devil"? And how has He destroyed them, how has He "cast out" the devil, as He Himself says, if not by His death upon the Cross?
Let us then lean by faith upon the cross of Christ Jesus, as our baptism gives us the right to do. The virtue of the cross is not exhausted. In baptism we were marked with the seal of the cross, we became members of Christ, enlightened by His light, and partakers of His life and of the salvation He brings to us. Hence, united to Him, whom shall we fear?
Dominus illuminatio mea et salus mea; quern timebo?
Let us say to ourselves: "He hath given His angels charge over thee to keep thee in all thy ways.""Because he hoped in Me (says the Lord) I will deliver him; I am with him in tribulation, I will deliver him, and I will glorify him. I will fill him with length of days, and I will show him My salvation." Excerpted from
Christ the Life of the Soul
, Dom Marmion.
---
St. Roderick of Cordoba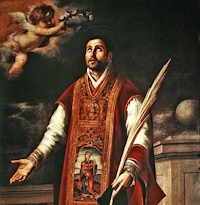 Jesus warned his disciples that they should expect no better treatment than Himself. They would be haled before governors and kings on His account, and brothers would even hand brothers over for execution.
That prophecy was literally fulfilled in the case of St. Roderick, a Spanish martyr who died at the hands of the Muslim Moors in A.D. 857. His was a bitter case of the reverse of Christian love. We owe the account to eyewitness St. Elogius, who later on died for the faith himself.It must be admitted that when the Mohammedans invaded Spain in A.D. 711, even they were sometimes shocked by the lack of religious principles among a large number of the Hispanic Christians. As the Moors swarmed in, the Catholics, far from presenting a strong front, became divided. Many, whether out of fear or lack of faith, voluntarily gave up their Christianity. Families thus split asunder and the members on either side railed at each other.St. Roderick was to prove a sad victim of this sort of betrayal. He was a good priest of Cabra who had two irresponsible brothers. One of them was a bad Christian who had all but abandoned his faith. The other had gone still further and joined Islam. One night the two started to fight each other unmercifully. Roderick tried to break them up, but instead of yielding, they turned on him and beat him senseless. Then the Muslim brother had the priest put on a litter and carried half-conscious through the streets. The Muslim accompanied the bier, proclaiming that Father Roderick, too, had apostatized, and that he wanted it known publicly before he died. Eventually the victim did recover and went off to a safe place.But Father Roderick had not yet seen the last of his renegade brother. The Muslim met the priest soon afterwards in the streets of Cordova. He had Roderick taken at once before the Mohammedan kadi (judge), where he accused him of the crime of having returned to Christianity after public profession of his Muslimism.Although Father Roderick protested that he had never denied his Christian faith, the kadi clapped him into the city's worst dungeon.In that fetid jail, the priest at least had the comfort of finding one Solomon, another Christian prisoner who had been accused of the same "unforgiveable" crime. Both of them were given a long term of imprisonment, in the hope that they would convert. But each man encouraged the other, and they remained firm in their Christian convictions. Even when separated, they would not change their belief.Eventually, the kadi ordered the Catholic priest and the layman beheaded. St. Eulogius saw their headless bodies lying on the riverside. He noticed that the guards were careful to throw into the stream any stones stained with the men's blood, for fear the faithful might pick them up as relics.The soldiers sought in vain to ward off veneration of SS. Roderick and Solomon. Spanish Christians would always honor them thereafter as martyrs. And they would also gradually learn from this heroism that the Faith is something really worth dying for.
—Father Robert F. McNamara, Excerpted from St. Kateri Tekakwitha Parish
Things to Do:
---
St. Euphrasia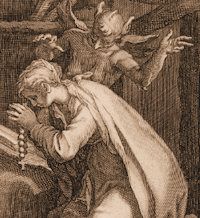 Antigonus, the father of this saint, was a nobleman of the first rank and quality in the court of Theodosius the Younger, nearly allied in blood to that emperor, and honoured by him with several great employments in the state. He was married to Euphrasia, a lady no less illustrious for her birth and virtue, by whom he had one only daughter and heiress, called also Euphrasia, the saint of whom we treat.
After her birth, her pious parents, by mutual consent, engaged themselves by vow to pass the remainder of their lives in perpetual continence, that they might more perfectly aspire to the invisible joys of the life to come; and from that time they lived together as brother and sister, in the exercise of devotion, alms-deeds, and penance. Antigonus died within a year, and the holy widow, to shun the importunate addresses of young suitors for marriage, and the distraction of friends, not long after withdrew privately with her little daughter into Egypt, where she was possessed of a very large estate. In that country she fixed her abode near a holy monastery of one hundred and thirty nuns, who never used any other food than herbs and pulse, which they took only after sunset, and some only once in two or three days: they wore and slept on sackcloth, wrought with their hands, and prayed almost without interruption. When sick, they bore their pains with patience, esteeming them an effect of the divine mercy, and thanking God for the same; nor did they seek relief from physicians, except in cases of absolute necessity, and then only allowed of ordinary general remedies, as the monks of La Trappe do at this day. Delicate and excessive attention to health nourishes self-love and immortification, and often destroys that health which it studies anxiously to preserve. By the example of these holy virgins, the devout mother animated herself to fervour in the exercise of religion and charity, to which she totally dedicated herself. She frequently visited these servants of God, and earnestly entreated them to accept a considerable annual revenue, with an obligation that they should always be bound to pray for the soul of her deceased husband. But the abbess refused the estate, saying, "We have renounced all the conveniences of the world, in order to purchase heaven. We are poor, and such we desire to remain." She could only be prevailed upon to accept a small matter to supply the church-lamp with oil, and for incense to be burned on the altar.The young Euphrasia, at seven years of age, made it her earnest request to her mother that she might be permitted to serve God in this monastery. The pious mother, on hearing this, wept for joy, and not long after presented her to the abbess, who, taking up an image of Christ, gave it into her hands. The tender virgin kissed it, saying, "By vow I consecrate myself to Christ." Then the mother led her before an image of our Redeemer, and lifting up her hands to heaven, said "Lord Jesus Christ, receive this child under your special protection. You alone cloth she love and seek: to you cloth she recommend herself." Then turning to her dear daughter, she said, "May God, who laid the foundations of the mountains, strengthen you always in his holy fear." And leaving her in the hands of the abbess, she went out of the monastery weeping. Some time after this she fell sick, and being forewarned of her death, gave her last instructions to her daughter in these words: "Fear God, honour your sisters, and serve them with humility. Never think of what you have been, nor say to yourself that you are of royal extraction. Be humble and poor on earth, that you may be rich in heaven." The good mother soon after slept in peace.Upon the news of her death, the Emperor Theodosius sent for the noble virgin to court, having promised her in marriage to a favourite young senator. But the virgin wrote him with her own hand the following answer: "Invincible emperor, having consecrated myself to Christ in perpetual chastity, I cannot be false to my engagement, and marry a mortal man, who will shortly be the food of worms. For the sake of my parents, be pleased to distribute their estates among the poor, the orphans, and the church. Set all my slaves at liberty, and discharge my vassals and servants, giving them whatever is their due. Order my father's stewards to acquit my farmers of all they owe since his death, that I may serve God without let or hindrance, and may stand before him without the solicitude of temporal affairs. Pray for me, you, and your empress, that I may be made worthy to serve Christ." The messengers returned with this letter to the emperor, who shed many tears in reading it. The senators who heard it burst also into tears, and said to his majesty, "She is the worthy daughter of Antigonus and Euphrasia, of your royal blood, and the holy offspring of a virtuous stock." The emperor punctually executed all she desired, a little before his death, in 395.St. Euphrasia was to her pious sisters a perfect pattern of humility, meekness, and charity. If she found herself assaulted by any temptation, she immediately discovered it to the abbess, to drive away the devil by that humiliation, and to seek a remedy. The discreet superioress often enjoined her, on such occasions, some humbling and painful penitential labour; as sometimes to carry great stones from one place to another; which employment she once, under an obstinate assault, continued thirty days together with wonderful simplicity, till the devil being vanquished by her humble obedience, and chastisement of her body, he left her in peace. Her diet was only herbs or pulse, which she took after sunset, at first every day, but afterwards only once in two or three, or sometimes seven days. But her abstinence received its chief merit from her humility, without which it would have been a fast of devils. She cleaned out the chambers of the other nuns, carried water to the kitchen, and out of obedience cheerfully employed herself in the meanest drudgery, making painful labour a part of her penance. To mention one instance of her extraordinary meekness and humility it is related that one day a maid in the kitchen asked her why she fasted whole weeks, which no other attempted to do besides the abbess. Her answer was that the abbess had enjoined her that penance. The other called her an hypocrite. Upon which Euphrasia fell at her feet, begging her to pardon and pray for her. In which action it is hard to say whether we ought more to admire the patience with which she received so unjust a rebuke and slander, or the humility with which she sincerely condemned herself; as if, by her hypocrisy and imperfections, she had been a scandal to others. She was favoured with miracles both before and after her death, which happened in the year 410, and the thirtieth of her age. Her name is recorded on this day in the Roman Martyrology. See her ancient authentic life in Rosweide, p. 351, D'Andilly, and most correct in the
Acta Sanctorum
, by the Bollandists.—Excerpted from Vol. III of
The Lives or the Fathers, Martyrs and Other Principal Saints
by the Rev. Alban Butler, the 1864 edition published by D. & J. Sadlier, & Company)
Things to Do:
---

Saturday in the Third Week of Lent
Station with Santa Susanna (St. Susan):
The Station is in the church of St. Susanna, virgin and martyr of Rome. The first Christian place of worship was built here in the 4th century. It was probably the titulus of Pope Caius (283-296). Caius was St. Susanna's uncle, and tradition claims that the church stands on the site of her martyrdom. The church is now the national parish of the United States since 1922.