Move to:
Previous Day
|
Next Day
Easter: April 17th
Friday of the Second Week of Easter
Other Commemorations: St. Anicetus, pope and martyr; St. Stephen Harding
» Enjoy our Liturgical Seasons series of e-books!
According to the 1962 Missal of St. John XXIII the Extraordinary Form of the Roman Rite, today is the feast of St. Ancetus, who was the tenth successor of St. Peter. He governed the Church from 155 to 166, years of great difficulty when Christianity in Rome had to face not only persecution by the emperors but also the heretical tendencies of the second century. St. Anicetus was visited in Rome by St. Polycarp, Bishop of Smyrna, who came to discuss with him the date of Easter.
Historically today is the feast of St. Stephen Harding, at Citeaux in France who was first to live in the Cistercian desert and who joyfully welcomed St. Bernard and his companions when they came to him.
---
St. Anicetus
Pope Anicetus, St. Peter's tenth successor (154-165), ruled at a time when many noteworthy events transpired in the Church of God. It was the golden age of Gnosticism, and its chief proponents, Valentine and Marcion, had come to Rome. From the Orient Polycarp arrived to discuss the question regarding the day for celebrating Easter. Among other illustrious men in Rome at the time were Justin Martyr (cf. April 14), who took the occasion to write his second apology and thus precipitated his martyrdom; and the renowned Jewish Christian scholar, Hegesippus. During the pontificate of Pope Anicetus the Church suffered persecution under the Emperor Marcus Aurelius. There is extant a decree in which Anicetus forbade his clergy the vain and frivolous grooming of their hair. His grave is near that of St. Peter in the Vatican.
Things to Do:
Vanity in dress and worldly attire is unbecoming for the faithful too while engaged in divine worship. For they are standing in God's presence, they are in the company of the Blessed Virgin, of the angels, and of their patron saints - yes, the blessed in heaven take part in the sacred drama. It is not surprising, then, that members of liturgically-minded congregations show a different attitude in the matter of dress and personal adornment than that common elsewhere. Resolve to dress yourself in a way that shows you realize the sublime events that are being enacted at each Mass you attend.
---
St. Stephen Harding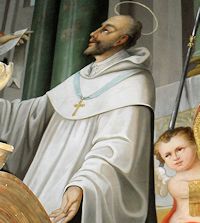 Stephen Harding, son of an English noble, was born at Sherborne in Dorsetshire, England, about the middle of the eleventh century. He consecrated himself to the monastic life in the Abbey of Sherbonne in Dorsetshire, where he received his early education. He later studied in Paris and Rome, where he pursued a brilliant course in humanities, philosophy and theology.
After studying in Paris and Rome, he visited the monastery of Molesmes. Impressed by its leaders, Robert of Molesmes and Alberic (who were later canonized), Stephen joined the community.After a few years, the three men, along with another 20 monks, established a more austere monastery in Citeaux. Eventually, Robert was recalled to Molesme (1099), Alberic died (1110), and Stephen was elected abbot.Stephen Harding is credited with writing the famous
Carta Caritatis
(Charter of Charity—often referred to as the Charter of Love). It was a six page constitution which laid out the relationship between the Cistercian houses and their abbots, set out the obligations and duties inherent in these, and ensured the accountability of all the abbots and houses to the underlying themes of charity and living according to the rule of Benedict.Since the monastery received very few novices, he began to have doubts that the new institution was pleasing to God. He prayed for enlightenment and received a response that encouraged him and his small community. From Bourgogne a noble youth arrived with 30 companions, asking to be admitted to the abbey. This noble was the future St. Bernard. In 1115 St. Stephen built the abbey of Clairvaux, and installed St. Bernard as its Abbot. From it 800 abbeys were born.In 1133, Stephen resigned as the head of the order, due to age and disability, and died the following year. —Excerpted from Catholic Fire
Things to Do: