Move to:
Previous Day
|
Next Day
Ordinary Time: September 16th
Twenty-Fourth Sunday of Ordinary Time
» Enjoy our Liturgical Seasons series of e-books!
Previous Calendar: Sixteenth Sunday after Pentecost
And Jesus went on with his disciples, to the villages of Caesare'a Philip'pi; and on the way he asked his disciples, "Who do men say that I am?" And they told him, "John the Baptist; and others say, Eli'jah; and others one of the prophets." And he asked them, "But who do you say that I am?" Peter answered him, "You are the Christ." And he charged them to tell no one about him (Mark 8:27-30).
Click here for commentary on the readings in the Extraordinary Form of the Roman Rite.
---
Sunday Readings
The first reading is taken from the Book of the Prophet Isaiah 50:5-9. The prophet Issiah describes some of the sufferings which the Messiah will endure.
The
second reading
is from the Letter of St. James 2:14-18 and is a continuation of the practical guidance we heard two Sundays ago. Christians must be "doers of the word not hearers only."The
Gospel
is from St. Mark 8:27-35. We need not be surprised at the slowness of the Apostles in grasping the messiahship of Jesus. He did not want the crowds who flocked to him to know this until later — after his resurrection — because they had the idea that the Messiah would be a political leader who would set them free from their subjection to pagan Rome. It was not until this occasion, near Caesarea Philippi, somewhat over a year after he had called them, that he admitted to his Apostles that he was the Messiah. He charged them not to make this fact known outside of their own limited circle. To forestall and erase any wrong ideas of a political leader which some of the Apostles might have, he immediately foretold the sufferings and death he would have to endure at the hands of the leaders of the Jews. He would be conquered and humiliated by his enemies but their victory would be short-lived -- death would not hold him -- he would rise triumphant on the third day. To the Apostles this seemed incredible and Peter, their spokesman, told him so. This outlook of the Apostles is also very understandable. They had seen him work many miracles, God was evidently very near to him: how could God let his enemies humiliate and kill him? They did not know God's plan, they were fishermen and knew little if anything of the Old Testament messianic prophecies. Had they read of the Suffering Servant in second-Isaiah they would not have disbelieved the prophecy of his forthcoming sufferings, death and resurrection. And his mention of his resurrection after three days, which would prove that it was he and not his enemies who conquered, fell on deaf ears, because the idea of a resurrection of that kind was incomprehensible to them. We know how slow they were to accept his resurrection even after it had happened. Although the message was only vaguely and dubiously grasped, Christ had forewarned his Apostles (he repeated this twice later: Mk. 9: 9-10; 31-32 and 10: 32-34), so as to prepare them for the scandal of the cross. While it did not really prepare them because they were still too worldly-minded, it did help to strengthen their faith once the facts convinced them of the resurrection. They then realized that their beloved Master was more than Messiah, that he was in fact the Son of God, who with knowledge aforethought freely accepted his humiliations and shameful death for their sakes and ours. They gladly gave their lives to bringing this news of God's great love for men to all nations. From being a scandal the cross became the emblem and the proud standard of God's love for mankind.We are in the happy position of the Apostles after the resurrection of Jesus. We know how much God loves us; we appreciate the humiliation that the incarnation brought on his beloved Son and the sufferings and cruel death which the sins of the world, ours included, brought on the Son of God. All of this took place because God wished to make us his adopted sons and worthy of the inheritance he had planned for us. For a faithful and grateful Christian, however, theoretical appreciation is not enough. Atonement has been made for our sins, but we have still a very important part to play. Our sins can be forgiven but we must truly repent of them before God will forgive them. St. Mark adds some words of Christ which illustrate what practical form our appreciation and gratitude for Christ's sufferings should take. We must be ready to follow him on the road to Calvary. We must deny ourselves — deprive ourselves not only of sinful pleasure or gain, but even of lawful things at times, in order to be Christ-like. We must take up our cross and follow him. This does not mean that we must search for crosses — there are plenty of them in any good Christian's life — but we must gladly accept the crosses life brings us and see in them God's means of keeping us close to him. Life on earth is very short, eternal life is endless. No thinking man, and certainly no true Christian, would risk losing the eternal life for the sake of a few paltry gains or a few extra years here below.Excerpted from
The Sunday Readings
by Fr. Kevin O'Sullivan, O.F.M.
---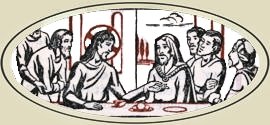 Commentary on the Readings for the Sixteenth Sunday after Pentecost
"'For everyone who exalts himself shall be humbled, and he who humbles himself shall be exalted" (Gospel).
Jesus reveals His Love by curing the victim of
dropsy
(pictured at the left). Love overcomes all human obstacles. The humble man does not, of course, expose his talents to the contempt of others. But he does recognize that
every best gift is from above,
loaned not for himself alone, but for his less favored neighbor as well.
For this reason I bend my knees to the Father
(Epistle), exclaims St. Paul, as he reflects on
His glorious riches
: how Divine love PURGES us by strength
through His Spirit,
ILLUMINATES us
through
our
faith
and then UNITES us in
Christ's love. . .unto. . .the fullness of God.
Humbly must we recognize
the power that is at work in us.
Excerpted from
My Sunday Missal
, Confraternity of the Precious Blood