Catholic Activity: Easter Renewal of Baptismal Vows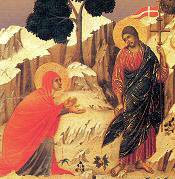 The family renewing their baptismal vows and being sprinkled with the newly blessed Easter Water at home reinforces the beautiful Easter liturgy into the home.
DIRECTIONS
After the Easter vigil or on Easter Sunday there should be a family renewal of the vows of Baptism. The baptismal candles should be displayed at the home altar. Then everyone recites the prayers of the renewal of the vows. This is followed by a song of thanksgiving for having received the gift of life. Then every member of the family is blessed with the new Easter-water. After this the procession may take place. If you live on a farm, the procession may go through the various sections that they may be blessed also.
Activity Source: How to Make Your House a Home by Rev. Bernard Stokes, O.F.M., Family Life Bureau, Washington D.C., 1955