tolerance, liberal style
By Diogenes ( articles ) | Jul 23, 2008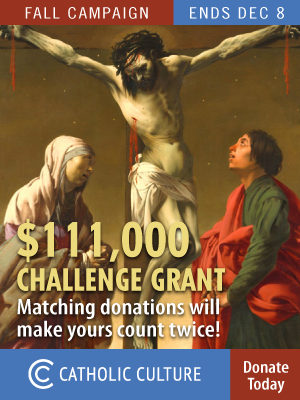 The Washington Post's On Religion blog, which brings you the spiritual wisdom of luminaries like Starhawk and Deepak Chopra, also has room for a house(broken) Catholic, one Anthony Stevens-Arroyo, whose latest posting begins:
In case you haven't noticed, Catholic bishops have stopped denying communion to politicians in this 2008 political campaign.
Actually I hadn't noticed. When did they stop? Or more to the point, how could they stop, since they had never started? We've had sporadic discussions, over the last several years, about the possibility that bishops might deny Communion to pro-abortion pols. To the best of my knowledge it hasn't happened yet.
Stevens-Arroyo thinks the bishops should refrain from insisting that public sinners should be recognized as public sinners. But the Post's blogger is nothing if not tolerant:
I am not against Catholics in office following the moral teachings of the Church...
Wow. What a guy.
Sound Off!
CatholicCulture.org supporters weigh in.
All comments are moderated. To lighten our editing burden, only current donors are allowed to Sound Off. If you are a current donor, log in to see the comment form; otherwise please support our work, and Sound Off!