Survey results: the Pavone controversy
By Phil Lawler ( bio - articles - email ) | Oct 07, 2011
Early this week we wrapped up an informal survey in which we asked Catholic Culture readers about their perception of the controversy involving Father Pavone and Priests for Life. Among the readers who responded:
12.7% chose: "Father Pavone is an effective pro-life leader; his bishop should not curtail his activities."
42.3% chose: "Bishop Zurek has legitimate reason to exert control over Priests for Life; Father Pavone should not resist his authority."
45.0% chose: "The claims and counter-claims are puzzling. I'd like to see the real facts sorted out."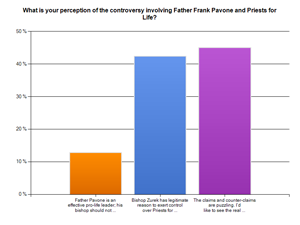 Click image for larger view.
The survey—which is not intended to be a scientific sampling—suggests that most of our readers are not persuaded by the complaints that Bishop Zurek acted arbitrarily when he called Father Pavone back to the Amarillo diocese. While some pro-life activists charge that the bishop is trying to stifle an outspoken opponent of abortion, 42.3% of our readers think that the bishop has good reason for his concern about the leadership of Priests for Life, and another 45% are open to that possibility.
If Father Pavone is involved in a showdown with his bishop, it is significant that only about one-eighth of our readers are prepared to line up on his side. That result is particularly noteworthy, I think, because I feel confident that any survey on the abortion issue would show an overwhelming support for the pro-life position among Catholic Culture readers. (Maybe that will be a topic for another future survey!)
For more on the Pavone controversy, see:
_____________________________________
This week we've inaugurated a new informal survey , asking what readers whether they see the "Arab Spring" uprisings as a positive development in the Middle East or an unfortunate opportunity for radical Islam. Have you entered your opinion?
Sound Off!
CatholicCulture.org supporters weigh in.
All comments are moderated. To lighten our editing burden, only current donors are allowed to Sound Off. If you are a current donor, log in to see the comment form; otherwise please support our work, and Sound Off!
Posted by: - Oct. 11, 2011 8:39 AM ET USA

Bishop Zurek leveled serious and public charges as the cause for Fr Pavone's recall. While obedience to authority obviously remains critical, explaining one's actions rationally seems every bit AS essential. I haven't heard anything from Amarillo lately. Seems strange to me that His Excellency didn't have any concerns for four years, yet now feels compelled to recall a priest. If Bishop Zurek had legitimate, serious concerns, you'd think he would've leveled them by now.

Posted by: John J Plick - Oct. 10, 2011 10:01 PM ET USA

The matter at hand is whether a Bishop can require "accomodation" with an impure motive and whether a priest, so perceiving, has the right, even the obligation for recourse. Paul warns us against judging anything before its time. It is not for the members of this website community nor the writers themselves to pass a kind of prejudicial judgment on Father Pavone.

Posted by: BLRallo3059 - Oct. 08, 2011 2:54 PM ET USA

I don't care whether or not Fr. Pavone thinks his bishop is wrong; if the man isn't asking him to violate the precepts of the Catholic faith then as a priest, he's obligated to obey. I've always loved Fr. Pavone but the disease of disobedience is spreading everywhere in our Church.