skepticism -- or, how a parricide eats his young
By Diogenes ( articles ) | Feb 20, 2006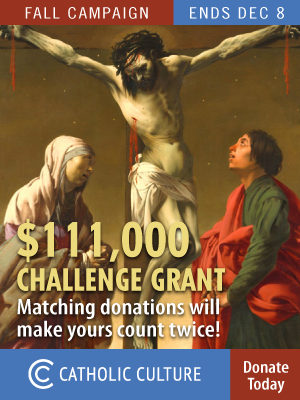 Homilists, though normally timid herbivores, tend to charge when wounded. Stung by having been put on waivers by the Holy See, Thomas Gumbleton in his latest offering sinks his dentures into the Gospel of Mark (1:41). The result isn't pretty:
To know Jesus in today's Gospel requires us to understand something about the Gospel that is very important. One word in the Gospel, the way I've read it was when Jesus looked on the man "he had compassion" but do you know what the word really should be? "Jesus was angry." He was angry!

What happened of course, you know, that as the scriptures were passed down generation after generation, they were written out by hand by scribes and often words would be changed. Particular words for "compassion," for "pity" and "anger" have the same Greek root and late in the 1500s probably the manuscripts began to show "compassion" instead of "anger," but the original word was "anger." Jesus was angry. Probably scribes thought, "That's not a good thing to say about Jesus -- he got angry. No, it would be better to say he was compassionate. Everybody would accept that."
A little learning is a dangerous thing, and it would be hard to cram more error, confusion, and unalloyed nonsense into 150 words than Gumbleton managed to accomplish above. Doubtless The Little Golden Book of Retroviruses, or whatever he used for a scripture commentary, taught him about the textual variant in the Codex Bezae and his fevered imagination connected the rest of the dots. But scholarship as such is beside the point. The message Gumbleton wants his listeners to carry away is that the teaching Church is untrustworthy. "Codlin's the friend, not Short."
Bishops used to be anointed and employed as reliable conduits of doctrine, and those who flaked out in matters of faith were quickly yanked from the pulpit and quietly sequestered somewhere far from public view. Vatican II's Lumen Gentium still accords the episcopacy its traditional role as guardian of the deposit of faith, but the bishops themselves seem intent on a makeover of their public image, in which they now play the part of Princess Margaret or the Duchess of York: cutting ribbons to open junior high schools, etc. Their job has become more photogenic than apostolic.
Occasionally, however, some of the faithful still wish to know, accurately, what the Church teaches about faith and morals and -- why not? -- the reliability of the Gospels. To this end, they don't ask their bishop, they check out EWTN or the equivalent (it's Mother Angelica, after all, that has a reputation to safeguard; would any of his fellow bishops bother to correct Gumbleton's boners?). In a given instance an auxiliary bishop of Detroit might give a sounder exegesis of a Marcan pericope than Fergie, but if so it would be a happy accident.
The current disposition won't last forever. Paradoxically, the Gumbletons teach us to take an angelican approach to the Angelicas and a gumbletonian approach to themselves, to become skeptical of the latter's skepticism and trustful of the former's trustfulness. We might be uncertain about the text of St. Mark, but all of us can read Dei Verbum and all of us can tell who's letting it form his thinking and who's not. The net effect is to bind faithful Catholics still closer to Peter, while Gumbleton's Children of the Dawn grow weary of their own weariness.
Sound Off!
CatholicCulture.org supporters weigh in.
All comments are moderated. To lighten our editing burden, only current donors are allowed to Sound Off. If you are a current donor, log in to see the comment form; otherwise please support our work, and Sound Off!