Prayers at the Foot of the Altar
By Diogenes ( articles ) | Feb 20, 2006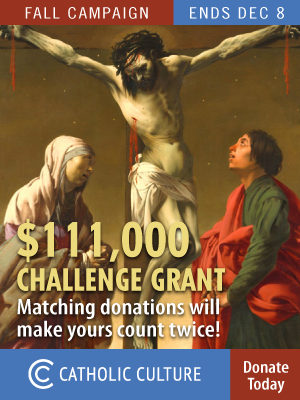 From the Missale Nonoxynolense (Redondo Beach: 2009), translated from the demotic Californian by Sr. Marie-Eugénie de l'Assomption, SL.
I come to the coffee-table of the Lord
To God who gives joy to my youth.
Plows are tacky, but I love a beaten sword;
So strum the harp, and pour the sweet Vermouth!

Let us rise, uproot our oaken pews,
And cast them in the Lake of Innisfree:
Then build (in def'rence to a younger Muse)
Unstructured space for worship/ministry.

O hang the walls with bead-work from Malaya,
Beneath my feet a lilac carpet lay.
Lava a romanitate mea
Et a machismo meo munda me!

Put a watch before my lips, O Lord,
A Rolex by the gatehouse of my mouth,
That we might hymn (in liberal accord)
The macro-economics of the South.

Incline thy ear to this my tongue's oblation;
Spurn not inclusive liturgy resoúrces;
For I sing a song of human maturation
In words our campus Worship Team endorses.

A polyester ephod weave for me
To grace thy courts on ferials and festals.
And might we laud thy Domesticity
With earthen-ware, and more-than-earthen Vestals.

Deliver us from Krakows and from Galways --
Benighted ghettos blind to their mistake;
Enlightened minds cry, "Give us this bread, always --
And let the peasants starve, for pita's sake!"
Fr. Steve Kelly, S.J., presides (L.A. Catholic Worker photo

Sound Off! CatholicCulture.org supporters weigh in.

All comments are moderated. To lighten our editing burden, only current donors are allowed to Sound Off. If you are a current donor, log in to see the comment form; otherwise please support our work, and Sound Off!