Science meets secular mythology—and loses, again
By Dr. Jeff Mirus ( bio - articles - email ) | Oct 27, 2020
My friend Thomas B. Fowler sent me an email the other day, shortly after I called attention to his work in my recent commentary, Science always points to God. Tom was responding to the recent absurd claim by Dr. Anthony Fauci—our chief guide in all things pandemic—that worldwide epidemics are growing worse today because we are not caring properly for the environment. The claim was made in an article published in the journal Cell (the tag line for which is Science that inspires), entitled "Emerging Pandemic Diseases: How We Got to COVID-19".
But the counter-point is best made by quoting Dr. Fowler directly:
In my book [Science, Faith, and Scientists, not yet available for sale], I talk about the politicization of science and the effects that it has. We now have another example in living color: Dr. Fauci is making the rather absurd claim that pandemics are getting worse because—you guessed it—we're trashing the planet.
The only problem is that he commits intellectual fraud on a grand scale in an attempt to make this plausible. Fauci claims 50 million deaths from the Bubonic Plague of the 14th century. He didn't even get that right, let alone adjust for population. The real number is about 136 million, and adjusted for population, in today's numbers it would be about 2.7 billion.
Fauci is clearly trying to justify political action. It is amazing to see that he was not immediately accused of fraud by many scientists. But nowadays if you say the right thing, no one questions your science. If you say the wrong thing, however well substantiated, your career is over.
So even though the modern world looks to science for salvation, they can't even get that right.
Tom attached the following chart to prove his point. COVID-19 is named Wuhan Flu in the chart and graphic below:
Past Pandemics
World population in 2020: 7,800,000,000
Event
Years
Est. deaths
World pop.
at time
% of
world pop.
2020 equiv.
Severity comp.
to Wuhan Flu
(COVID-19)
Plague of Justinian
541-49
50,000,000
200,000,000
25
1,950,000,000
1,950
Bubonic Plague
1340-49
136,500,000
390,000,000
35
2,730,000,000
2,730
Smallpox
1520
56,000,000
500,000,000
11
873,600,000
874
Third Plague
1855
12,000,000
1,265,000,000
1
73,992,095
74
Spanish Flu
1918-19
50,000,000
1,900,000,000
2.6
205,263,158
205
Hong Kong Flu
1968-69
1,000,000
3,540,000,000
.028
2,203,390
2
HIV/AIDS
1981-now
30,000,000
7,000,000,000
0.429
33,428,571
33
Wuhan Flu
2020
1,000,000
7,800,000,000
0.013
1,000,000
1
He also included the following graphic, which makes the absurdity of Dr. Fauci's claim even easier to see. The scale is in millions, using the percentage of deaths in equivalent population figures today: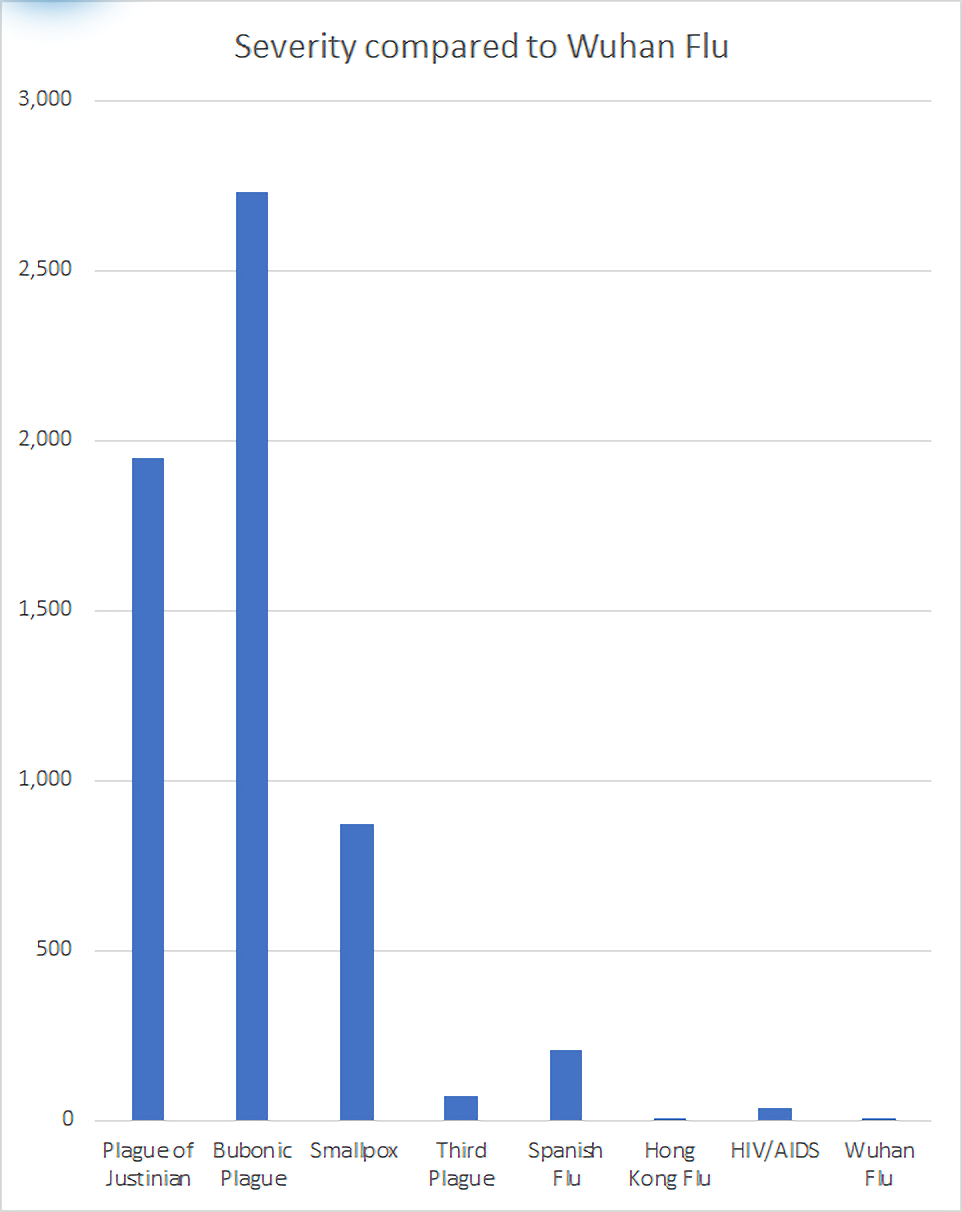 Note: Neither of us is saying that we should ignore Dr. Fauci when he is fulfilling the medical task for which he was appointed. This is just one more cautionary tale about pretending to translate the prestige of science into support for whatever beliefs and causes happen to be popular in the dominant culture at the moment. It is a warning to all scientists not to twist scientific data to advance an agenda.
Sound Off!
CatholicCulture.org supporters weigh in.
All comments are moderated. To lighten our editing burden, only current donors are allowed to Sound Off. If you are a current donor, log in to see the comment form; otherwise please support our work, and Sound Off!
Posted by: christosvoskresye5324 - Oct. 28, 2020 1:26 PM ET USA

Many of our problems derive from the unspoken belief that if one really wants something to be true, his will can change reality, as in a lucid dream. On the left this leads to abortion and transgenderism; on the right it is more likely to be that because we do not want climate change to be real, or the use of fossil fuels to be a problem, they are no problem. Of course this kind of thinking makes for poor public health. Fauci's two problems are siblings, not parent and child.