Religion in public? Our modern political stupor
By Dr. Jeff Mirus ( bio - articles - email ) | Oct 20, 2016
Well, well, I was looking for something to write about…and there it was right in our news list: "France's Le Pen: ban religious symbols in public". When the leader of France's third-largest political party proposed a ban on all personal manifestations of religious commitment in public, she may have assumed that "every French person, including Jews, can understand" the value of such a ban as a way of combatting Islamic extremism. But the real message is that religion in a secular state is far more trouble than it is worth.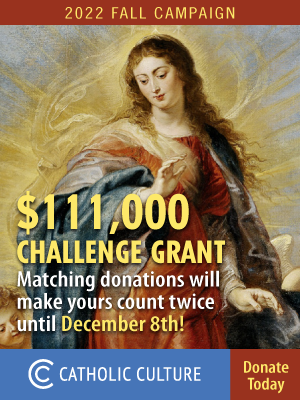 Even supposing that Marine Le Pen finds some small space for God in the depths of her highly political soul, we see in her proposal the triple fallacy of modern unbelief. To rephrase Elizabeth Barrett Browning: How do I correct thee? Let me count the ways. The secular attitude toward religion is based on at least three gargantuan fallacies.
1. The life of a nation can thrive without religion.
This fallacy is even now being refuted before our very eyes, for those who can see. In the West generally, the social order is rapidly collapsing, leaving the all-knowing, all-seeing regulatory State in its wake. This catastrophe is most advanced in Europe. It is directly traceable to the destruction of religious values in a culture which has lost its supernatural perspective—its recognition of and obedience to God. A supernatural perspective blossoms in personal and social commitments to the Good which transcend the self. Transcending the self is the first step toward true community.
The first of these transcendent commitments is to a well-ordered family life. The family is broadly essential to healthy human formation, and so to a healthy society. The progressive removal of all reminders of religion from a nation's social life derives from the gratuitous assumption that the human person (if there is such a thing) has no spiritual capacity and so cannot possibly have a healthy and productive spiritual orientation, even in the family. Thus the right way to eliminate the problems and restraints associated with religious practice is to eliminate religion. What would our politicians think if we said, rather, that the right way to eliminate the problems and restraints associated with politics is to eliminate government?
2. Religion, being a false source of meaning, leads to needless conflict.
The modern secularist, who finds his liberty conveniently expanded by the denial of any meaning not of his own making, naturally regards religious differences as a source of conflict—which indeed they often are. But what is utterly preposterous is the secularist conceit that making up meaning for ourselves does not lead to conflict. Secularists myopically see their own absence of religion as the key to peace and harmony. But history demonstrates that this is true only when two conditions are fulfilled: (a) The powerful elites agree on the same fundamental values; (b) Those whom the powerful elites must eliminate to actualize their vision of peace do not count as part of the community of reference.
Committed Christians encounter these conditions constantly today. It is astonishing that so soon after the horrors of the French Revolution, Communism, and Nazism—all of which were distinctively secular ideologies—our elites still manage to convince themselves that their arbitrary imposition of constantly shifting secular values is somehow a form of peace and harmony. But the other aspect of the fallacy is that religious conflicts are necessarily needless. It is not needless for the human person to strive to grasp the deepest realities of life, and to thrash out important differences in the truth claims of various religions. An honest and forthright debate over truth is essential. Truth is the mind's conformity with reality. The assertion that truth is impossible or irrelevant always leads to despair, for the human person requires meaning to be happy.
3. It is impossible to distinguish between good and bad religion, or good and bad religious practice.
One can dismiss religious belief in two ways. The atheist insists that all religion is necessarily bogus. The agnostic insists that religious inquiry can bear no fruit. The first is so easily disproved that it is generally held as a matter of convenience by those who abhor all metaphysical restrictions. (Atheism, after all, is very nearly synonymous with pride.) The second, when applied to public policy by those who have no intention of seeking further enlightenment, conveniently presumes that "my ignorance is superior to your conviction."
Both attitudes appear to exempt those who hold them from the hard work of grasping reality and living in accordance with it. In fact, this aversion to real metaphysical work (or the refusal to credit its usefulness) is the dominant characteristic of secular societies. In the face of clearly complex questions and challenges, our own era refuses to proceed by any principle other than desire. This in itself is a sign of despair but, in any case, one ought to be ashamed of such astonishing laziness.
In fact, religious claims can be explored very fruitfully on two important levels. At the most fundamental human level, this exploration involves an honest and patient examination of all existing claims that God has revealed Himself. The purpose of this examination is to determine which of these claims (if any) merit rational assent. If none do, then we fall back on what we can intuit or prove about God's existence from both human introspection and reflection on natural reality as a whole.
Either way, at the secondary level—the level of community governance or politics—it is necessary to determine whether some religious practices must be restricted in accordance with the demands of the common good. This determination can be made only through a philosophical reflection on reality in general and on human consciousness in particular; the purpose of this sustained reflection is to recognize any moral values implicit in the order of things—that is, the moral principles which we call the natural law. A sound government, even if it knows some truths from Revelation, is morally bound to restrict as a matter of principle only those religious practices which pose a danger to the common good through their violation of the natural law.
Conclusion
Such distinctions are so immediately valuable that one might almost recommend that everyone start the search for God by examining the religions (if more than one) which acknowledge them. In any case, here at last we find the sort of knowledge that Marine Le Pen desperately needs in order to propose moral policies which limit religious expression.
Sadly few politicians care to think deeply about reality. It is far easier to gauge the public mood and craft policy in accordance with expediency. The essence of expediency is that some should suffer so others might prosper—or, in the chilling words of the Gospel of John, "that one man should die for the people" (11:50; 18:14). However we look at it, the intellectual laziness that passes for political thought is truly astonishing in our time.
Sound Off!
CatholicCulture.org supporters weigh in.
All comments are moderated. To lighten our editing burden, only current donors are allowed to Sound Off. If you are a current donor, log in to see the comment form; otherwise please support our work, and Sound Off!