The message behind the burqa
By Phil Lawler ( bio - articles - email ) | Oct 20, 2016
In his excellent speech at Notre Dame (about which more anon), Archbishop Charles Chaput makes an interesting point about Muslim women who wear the hijab or burqa: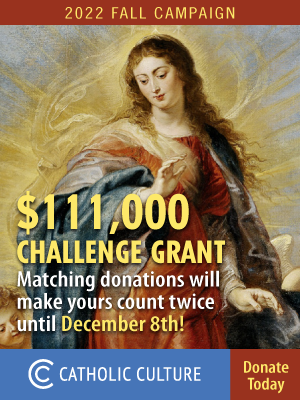 Some of my friends are annoyed by that kind of "in your face" Islam. But I understand it. The hijab and the burqa say two important things in a morally confused culture: "I'm not sexually available;" and "I belong to a community different and separate from you and your obsessions."
There are problems with Islam, especially in its more assertive forms, and the archbishop says as much in passing. But those two messages are messages that our culture needs to hear. It wouldn't be a bad thing at all if Catholic women—and Catholic men, for that matter—found winsome ways to deliver the same messages.
Sound Off!
CatholicCulture.org supporters weigh in.
All comments are moderated. To lighten our editing burden, only current donors are allowed to Sound Off. If you are a current donor, log in to see the comment form; otherwise please support our work, and Sound Off!
Posted by: winnie - Oct. 25, 2016 10:07 AM ET USA

The archbishop is viewing the burqa/hijab through a Christian lens and saying Muslim women freely choose to wear it to express the Christian ideal of chastity. But what of Muslim women who have chosen not to wear it? Google "women murdered for not wearing hijab" and a host of grim examples pop up.

Posted by: garedawg - Oct. 21, 2016 10:25 AM ET USA

When I got married, my future wife was looking for a wedding dress that did not show too much skin. It was a difficult task and she even found herself looking on a website that caters to Mormons and Muslims. I must have mentioned this to the photographer, because I remember him saying that he usually would see the most bridal party skin at the Catholic weddings!

Posted by: 1Jn416 - Oct. 20, 2016 8:59 PM ET USA

As there is no distinctly lay Catholic dress, perhaps the best thing would be reserved, modest clothing, a reserved demeanor, and a wedding ring for the married. It would be nice if there were some sort of way we could dress to send the message suggested. But first, as a group we would need to really live differently. Stop watching immodest television, listening to immodest radio, seeking riches, having small families by choice, etc. An interior re-dressing as well as exterior.

Posted by: shrink - Oct. 20, 2016 3:00 PM ET USA

Catholics did have a winsome way to deliver the same message, it was called the religious habit. Religious sisters wore full-length skirts with veils. Married women and their daughters wore chapel veils. These became too passé in the mind of secularists, and our Churchmen agreed and labeled habits and veils anti-evangelical. A fruit of V2. Now the islamists have made it cool again. We Catholics are flapping in the wind.