Persecution and apostasy: two tough challenges
By Phil Lawler ( bio - articles - email ) | Oct 20, 2016
Archbishop Charles Chaput pulled no punches in an October 19 address to a symposium at Notre Dame. In fact the archbishop actually spoke about punching, reminding his audience that "we can't overlook the fact that the flesh and blood model for our Church—Mary as mater et magistra—is quite accomplished at punching the devil in the nose."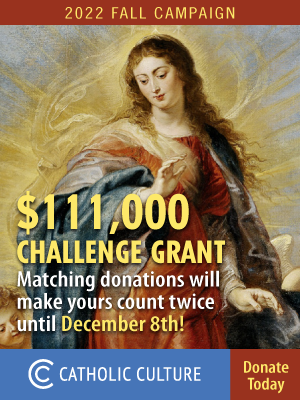 If you're getting the impression that Archbishop Chaput was in a fighting mood, you're right. Moreover, he insisted that all Catholics have a duty to fight for the faith, and those who fail to do so are, well...:
Apostasy is an interesting word. It comes from the Greek verb apostanai—which means to revolt or desert; literally "to stand away from." For Benedict, laypeople and priests don't need to publicly renounce their baptism to be apostates. They simply need to be silent when their Catholic faith demands that they speak out; to be cowards when Jesus asks them to have courage; to "stand away" from the truth when they need to work for it and fight for it.
Strong stuff, and well worth reading.
Coincidentally, the text of the archbishop's address is reproduced on the Crisis magazine site today, side-by-side with an article by Anthony Esolen, with the title "What Will You Do When the Persecution Comes?" If the fight is lost—and let's face it, the outlook is not promising—and if our Church faces a new spasm of persecution, Esolen expects to see Catholics fall into four categories: the persecutors, the quislings, the avengers, and the soldiers. Those titles are fairly self-explanatory, and I'll let you read Esolen's essay for a full description of his taxonomy. Let me call attenton to just one observation that he makes about the final category: "The Soldier complains about his superiors not because they give him bad orders, but because they give him no orders at all."
Exactly! In American today, we Christians are caught up in a battle for our culture—that is to say, a battle for our children. We didn't choose this battle; we are not the aggressors. But it would be cowardly to back off the fight: a betrayal of our faith and of our families. Archbishop Chaput makes that argument with admirable clarity.
Unfortunately Archbishop Chaput is an exception. More often, when lay Catholics engage in the battle, we hear nothing from our "superiors," the American bishops—or worse, we hear discouraging messages, complaints that we are being too strident.
After reading the two pieces on the Crisis page, I find myself wondering: In which of Esolen's categories would the bishops place themselves? And how would they answer the archbishop's indictment of those who "stand away" from a battle that must be fought?
Sound Off!
CatholicCulture.org supporters weigh in.
All comments are moderated. To lighten our editing burden, only current donors are allowed to Sound Off. If you are a current donor, log in to see the comment form; otherwise please support our work, and Sound Off!