promoted
By Diogenes ( articles ) | Sep 30, 2007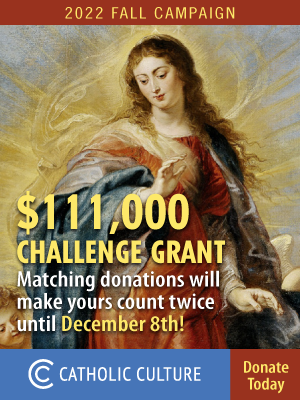 Please let it be true. The rumor is stiffening that Papal Master of Ceremonies Piero "Cats" Marini is soon to be assigned to outdoor maintenance at the curial retreat house in Point Barrow, Alaska, and that a clergyman more sympathetic to Pope Benedict's liturgical vision will replace him.
A figure of controversy among ritualists and a Capricorn, Marini was not without supporters, most notably at the Beauty Tips for Ministers blog. It is our hope that his experience in the use of the damp-iron technique for the rochet will have lasting benefits for the life of the subarctic Church.
Sound Off!
CatholicCulture.org supporters weigh in.
All comments are moderated. To lighten our editing burden, only current donors are allowed to Sound Off. If you are a current donor, log in to see the comment form; otherwise please support our work, and Sound Off!
Posted by: samuel.doucette1787 - Jan. 08, 2010 2:55 PM ET USA

The USCCB should be shut down. They have long been the top cover for the "consistent ethic of life" obfuscators to enact the Democrat Party platform and minimize the abortion issues.

Posted by: extremeCatholic - Dec. 31, 2009 6:45 PM ET USA

"For where your treasure is, there your heart will be also." Mt 6.21

Posted by: Miss Cathy - Dec. 29, 2009 4:46 AM ET USA

Social justice - 1168 hits. God's justice - 60 hits. ....hmmmmmm.

Posted by: MAG - Dec. 28, 2009 10:49 PM ET USA

Goes to show why the USCCB site is largely irrelevant for those seeking to deepen their faith and grow in grace...

Posted by: unum - Dec. 28, 2009 9:59 PM ET USA

Shutting down USCCB would have a positive effect on national morality. The faithful don't pay any attention to the Conference, and the liberal members of Congress (largely) would have no one to give them political cover as they advocate legislation at variance with the teaching of the Church.

Posted by: thecrossreference8142 - Dec. 28, 2009 9:37 PM ET USA

How many times is the USCCB web site expected to mention "transubstantiation"? And, so that we have something to measure against in this highly unscientific survey, here are results from Catholic Culture's search engine: "transubstantiation" 124, "virgin mary" 2013, "st joseph" 610, "appropriations" 65, "welfare" 1180, "environment" 1242, "health care" 1225.

Posted by: Gil125 - Dec. 28, 2009 4:26 PM ET USA

Valuable information, Di. Once again, a lot of us are thinking: it's time to shut the USCCB down, lay off the entire staff, and start anew with nobody but bishops and maybe one secretary on the payroll. And they better select the bishops carefully. Wilton Gregory, for one, would be ineligible.