amahl & the night visitors
By Diogenes ( articles ) | Sep 30, 2007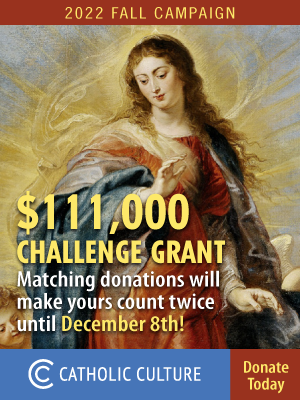 Just when you thought it was safe to use the stairs ...
Gallup Bishop Donald Pelotte, who recently was found locked in his upstairs bedroom bewilderingly injured but NOT a victim of intruders, was recently a victim of intruders but left uninjured. Or something.
Gallup Police were called to Bishop Donald Pelotte's home early Thursday morning, an incident that seems to be a strange echo of another incident in late July that left Pelotte seriously injured.

Pelotte, 62, the Roman Catholic bishop of the Diocese of Gallup, is currently recovering from injuries suffered in July and is absent from his official duties.

According to a copy of an incident report from the McKinley Metropolitan Dispatch Authority, Pelotte made an emergency call to Metro Dispatch at 5:51 a.m. on Thursday, Sept. 27, claiming that unknown subjects were in his home. Three Gallup Police officers were dispatched to Pelotte's west side home, with the first two officers arriving at 6 a.m. and the third officer arriving three minutes later.

The Metro Dispatch report provides a sketchy -- but strange -- account of the incident. Pelotte reportedly said there were four individuals in his house, but he offered conflicting information about them. At one point, he said one of the individuals came to visit and the others came inside. He also said they had been there for three hours, and he had tried to tell them to leave. Later Pelotte said they were unknown people, strangers who didn't want to leave.

Twice Pelotte is reported to have said the intruders were "gentle" people.
They record 9-1-1 calls, don't they? Pelotte's would be especially interesting to review. In particular, the level of agitation and lucidity he communicated would give a clue as to what the bishop himself believed was going on. We're told that even the diocesan officials who back up his took-a-tumble story were caught off balance by his quick return and by his latest misfortune:
Chancery officials at the Diocese of Gallup have stated that Pelotte suffered traumatic head injury in the July incident, and they have declined to speculate when or if Pelotte would be returning to his duties with the diocese. However, Pelotte took those same officials by surprise when he returned to Gallup Sept. 21.

They were surprised again by this most recent incident. The Independent contacted Matt Doyle, the interim communications director for the diocese, and provided him with a copy of the Metro Dispatch report on Friday evening.

"Right now," he said, "all that we can say is it's very early and we're looking into it."
My suggestion: Since you'll be having the carpet guy over to nail-down that runner more securely, call a locksmith to install a couple dead-bolts at the same time.
Gentle
dead-bolts. And while you're at at, phone the nunciature and ask what a 401-dash-2 costs these days. Think of it as an investment in the future.

DeChance, Bishop Descending a Staircase, Elkhart Museum of Contemporary Art
Sound Off!
CatholicCulture.org supporters weigh in.
All comments are moderated. To lighten our editing burden, only current donors are allowed to Sound Off. If you are a current donor, log in to see the comment form; otherwise please support our work, and Sound Off!