prayer, yes; faith, no
By Diogenes ( articles ) | Oct 29, 2009
Rejecting protests, the city council of Darwin, Australia has decided to continue the practice of reciting the Lord's Prayer at meetings. Showing the wisdom of Solomon, the council members reason that non-Christians should not object to the prayer, since its inclusion at the meetings is a matter of tradition rather than religious faith.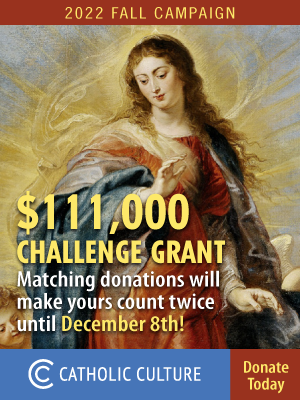 In other words it's OK to say the prayer as long as you don't mean it.
Lord Mayor Graeme Sawyer explains:
It's not there as a religious artefact, it's there as an artefact of the Western democratic principles that local government comes out of.
Western? The prayer was introduced to Semitic peoples in the Middle East.
Democratic? Then what's that reference to a kingdom?
Artifact?
Sound Off!
CatholicCulture.org supporters weigh in.
All comments are moderated. To lighten our editing burden, only current donors are allowed to Sound Off. If you are a current donor, log in to see the comment form; otherwise please support our work, and Sound Off!