Only in America: The Etch a Sketch Boom
By Dr. Jeff Mirus ( bio - articles - email ) | Apr 02, 2012
Most people have heard by now of the Romney campaign's Etch A Sketch gaffe. Asked whether Romney had shifted too far to the right to win in the primaries, chief aide Eric Fehrnstrom said: "You hit a reset button for the fall campaign. It's almost like an Etch A Sketch. You can kind of shake it up and we start all over again." The ill-advised comparison fueled Republican fears that Mitt Romney, the king of the 180 degree turn, has no real convictions.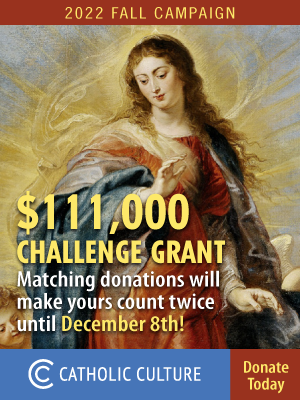 But this is America, right? So even a lack of principles can be turned to commercial use. According to the April 6th issue of The Week, since the incautious Etch A Sketch comparison, sales of the toy have gone up 2,000 percent on Amazon, and the stock price of its maker, Ohio Art Co., has more than doubled.
Sound Off!
CatholicCulture.org supporters weigh in.
All comments are moderated. To lighten our editing burden, only current donors are allowed to Sound Off. If you are a current donor, log in to see the comment form; otherwise please support our work, and Sound Off!
Posted by: AgnesDay - Apr. 10, 2012 6:08 PM ET USA

I have been amused by the Christians who "believe in the God of Second Chances." I do, too, but I don't think God gives Mulligans. The second chance is not going to be a do-over, but an alternate route to Heaven.