On Holy Days and Holidays
By Dr. Jeff Mirus ( bio - articles - email ) | Apr 02, 2012
There are more and more opportunities, as time goes on, to employ Hercule Poirot's famous expression that certain circumstances "give one furiously to think." A case in point is the Cuban government's declaration that Good Friday will be a national holiday this year, in response to a request by Pope Benedict. That's not how we roll in the United States.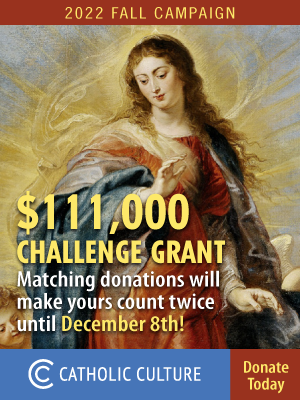 In fact, there is an opposite trend here. It used to be that all school "Spring breaks" were aligned with Easter, a holiday which the overwhelming majority of Americans observe in some way, and which most observe religiously. But owing to the anxious desires of our leaders to avoid appearing to take Christianity seriously in the public order, most secular schools now make sure that Spring break occurs at the rational midpoint of the semester in which it falls. This is rather like the 10-day week instituted by the French revolutionary government, ten being regarded as a more rational division than the oddball seven.
By the same logic, it makes sense to construe any two parts as even halves, as if the semester gave birth to the holiday, rather than the holiday possessing the authority to interrupt the semester. And just to be sure that we all understand that we are behaving rationally rather than religiously, we now must institute a correspondingly symmetrical Fall break as well.
Of course everybody likes a break. But the origins of nearly all breaks from our daily grind are found in the celebration of the persons and events which give time deeper meaning. When we turn our backs on that, we end up adjusting our schedules not in recognition of the depths of human experience, but only to make our daily grind of work more efficient. Yes, it gives one furiously to think.
But one thinks even more furiously about the interesting contrast, in this instance, between the trend in Cuba and the trend in the United States. After all, which policy is more suggestive of a nation attuned to the religious moorings of its people, or to a government's own duty to recognize the universal demands of religion? Which better corresponds to the most serious obligation of man—in all the social orders he creates—to honor the Creator, from whom all good things come?
The answer is surprising, is it not? In this particular instance, the formally atheistic regime in Cuba is now doing better than the practically atheistic regime in the United States. By practical atheism I mean that condition in which people, regardless of the beliefs they may profess in high-sounding political jargon, live and act for all practical purposes as if they do not believe in God.
Or, to look at it another way, take the parable of the two sons (Mt 21). Their father told them both to work in the vineyard. One said he would not, but later went out to work anyway. The other said he would, but never showed. "Which of the two," Our Lord asks, "did the will of his father?"
And so the further question arises: Would we rather have leaders who pay lip service to God but consistently refuse to obey His commandments? Or would we prefer leaders who declare themselves atheists but occasionally do what God wants? I am not saying—or not yet, anyway—that I would prefer to live under the Castros in Cuba. I am simply saying that this question of holidays and holy days gives one furiously to think.
Sound Off!
CatholicCulture.org supporters weigh in.
All comments are moderated. To lighten our editing burden, only current donors are allowed to Sound Off. If you are a current donor, log in to see the comment form; otherwise please support our work, and Sound Off!
Posted by: - Apr. 27, 2012 9:08 AM ET USA

Eastern Catholics follow the old Julian calendar, so a holiday like Christmas is celebrated on January 7th, and many times Easter doesn't match the western date. Gotta tell ya: it is wonderful! It is a "pure", non-secular, religious holiday. We take off work and go to the Liturgy (Mass) without the commercial polution. Heck, the Jews have had their own non-secular calendar for 3,000 years and it seems to work OK for them! :)

Posted by: Frodo1945 - Apr. 02, 2012 5:58 PM ET USA

Ascension Thursday is gone. Any feast day near the weekend is gone. We have elaborate liturgies on Memorial Day and July 4th. Something is wrong with this picture. We are headed in the wrong direction.