None so blind...
By Phil Lawler ( bio - articles - email ) | Jul 31, 2018
Let's dip once again into the archives, take note of what 'Diogenes' was saying years ago, and see how well it applies to the current mess.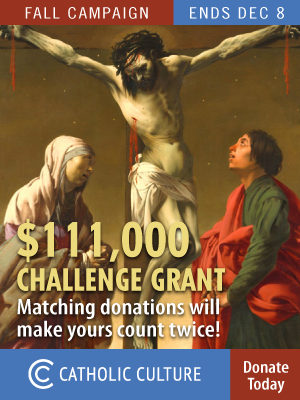 This week reporters are busily asking whether Bishop X knew that McCarrick was molesting minors. That's the wrong question. The bishop probably didn't know. I didn't know.
The right question is whether Bishop X knew that McCarrick was molesting seminarians, most of them legal adults—that is, whether Bishop X knew about the beach house. That's the part of the story that I knew—that "everybody knew." If you know that a powerful adult is importuning young men under his authority, you know that he's a predator. And even if you hold the bizarre (but apparently commonplace) view that a cleric who engages in consensual sex is not a problem, you should recognize that a man who exploits his position to chase young adults is a danger to not-quite-adults.
But back to Diogenes, eight years ago, commenting on another case that involved the same sort of (deliberate?) blindness:
---
Three years after he was quoted as saying that it would have been "grossly unfair" to bar the ordination of Daniel McCormack—who would go on to notoriety as a convicted serial molester—Bishop Gerald Kicanas has reacted with some asperity to a National Catholic Register columnist's suggestion that his handling of the case might prove embarrassing when (as seems inevitable) he is elected later this month as president of the US bishops' conference.
In comments to the Register, Bishop Kincanas says that he would never have advocated McCormack's ordination if he knew that the man would be accused of molesting dozens of boys. Well, yes. But did he have any reason—back when he was rector of Mundelein seminary—to suspect that McCormack might have troubles with sexuality?
At no time while McCormack was a seminarian at Mundelein did I receive any allegation of pedophilia or child molestation against him. I never received any allegation, report or concern about McCormack during his seminary years at Mundelein that involved sexual abuse of anyone.
Right. Understood. At the time, he was not a certified abuser. But was he troubled?
I never received any allegation, report or concern about McCormack during his seminary years at Mundelein that involved sexual abuse of anyone.
The Register correspondent, Tim Drake, poses the obvious question in an interesting way:
You said, "I was more concerned about his drinking." You were more concerned about his drinking than what? Your statement seems to indicate that there were other problems/issues, more than just McCormack's drinking.
No response.
Finally, after roughly 1,000 words, Bishop Kicanas divulges the information that there were concerns about McCormack's behavior. There were reports of—can you guess?—consensual homosexual activity, which apparently took place only after McCormack had been drinking. Thus the rector was concerned about the young man's alcohol consumption. But there was never a hint that McCormack would be unfit for the priesthood, because—let's hear it one more time—
While he was at Mundelein, no allegation or report or concern of sexual abuse of anyone was ever made against McCormack.
Sound Off!
CatholicCulture.org supporters weigh in.
All comments are moderated. To lighten our editing burden, only current donors are allowed to Sound Off. If you are a current donor, log in to see the comment form; otherwise please support our work, and Sound Off!