Ministry under duress: a sympathetic look at a priest coping with tragedies
By Phil Lawler ( bio - articles - email ) | Sep 09, 2013
The Boston Globe offers
a moving profile
of a priest who faced multiple challenges in the wake of the Marathon bombing in April.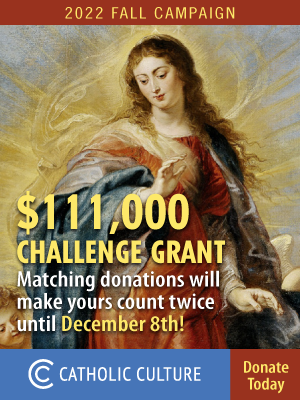 Father Sean Connor—who was a police officer before becoming a priest—was chaplain to the Boston police department, so he was called immediately to the scene, to witness the chaos and the bloodshed. He was pastor of a church in Dorchester, where his parishioners included many police and firefighters—and the Richards family, who saw one child killed and another badly injured by the bombs. At the same time an old friend, a priest who moved into his rectory to recuperate after cancer surgery, was losing his battle with the disease. His mother had just moved into a nursing home. And Father Connor himself was suffering with persistent neck pain that would eventually require surgery. The Globe's sympathetic account explains how the priest juggled his responsibilities and coped with tragedies.
Sound Off!
CatholicCulture.org supporters weigh in.
All comments are moderated. To lighten our editing burden, only current donors are allowed to Sound Off. If you are a current donor, log in to see the comment form; otherwise please support our work, and Sound Off!
Posted by: schulerpauljr1817 - Dec. 20, 2017 10:42 AM ET USA

I agree with your reasoning, especially in regard with the case of the St. Louis priest. At the same time I believe the Snap accusations whether they made them or not does not relieve them from responsibility.

Posted by: feedback - Dec. 18, 2017 11:40 AM ET USA

One thing that diocesan bureaucracies are really good at is to disavow a priest they don't like for whatever reasons.

Posted by: msorensen71798 - Dec. 15, 2017 4:28 PM ET USA

https://opusbono.org/