A Manichean Luther
By Thomas V. Mirus ( bio - articles - email ) | Oct 17, 2014
An in-depth article at Unam Sanctam Catholicam takes a look at modern scholarship which reveals that Martin Luther's theology was far less orthodox than is commonly believed: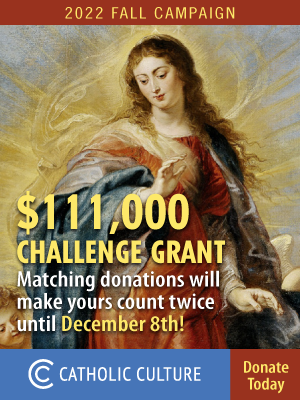 For most of post-Reformation history, it has been axiomatic in theological histories of the controversy to propose Martin Luther as a devoted follower of the theology St. Augustine of Hippo, the great opponent of the Manichees. ... Contemporary scholarship, however, reveals quite a contrary picture of Luther. Far from invoking Augustine against Rome, Martin Luther shows himself disdainful of the great doctor of Hippo, and in fact an advocate of the dualist theology of the Manichees.
Luther's beliefs would come as a shock to modern Lutherans, and as it turns out, his immediate interpreters too sought to temper his theology and to bring it closer in line with orthodox doctrine. This was so much the case that after his death his primary collaborator, Philipp Melancthon, remarked that Luther had suffered from a "Manichean delirium."
Luther's Gnosticism reveals itself first of all in his theology of atonement, in which Christ assumes not just the punishment due to man's sin, but the guilt for sin, and adopts the sinful disposition of fallen man. In the crucifixion there is a reversal of roles between God and Satan; in Luther's words, "the devil must be granted an hour of divinity and I must attribute fiendishness to God."
For this reason Luther rejects the hypostatic union of Christ's humanity and divinity. Since the divine and the sinful cannot co-exist, Luther says that Christ is not a hypostasis but a "composition" of human and divine – divinity is seen as Christ's substance and humanity as the accident, and Christ's human nature plays no positive role in the redemption.
For Luther, therefore, the Church itself does not participate in the divine nature.
His deep-seated dualism regarding faith and works led him so far as to write:
So one is the Abraham who believes, one is the Abraham who works, one is the Christ who redeems, one is the Christ who works... distinguish between these two things as between heaven and earth.
To reiterate, the theology of Lutherans is not the theology of Luther. But as the article points out, if there is to be dialogue between Catholics and Lutherans, we ought to have an accurate idea of the character and beliefs of the "great reformer."
Sound Off!
CatholicCulture.org supporters weigh in.
All comments are moderated. To lighten our editing burden, only current donors are allowed to Sound Off. If you are a current donor, log in to see the comment form; otherwise please support our work, and Sound Off!
Posted by: - Oct. 18, 2014 10:00 AM ET USA

A shame, really. Before Luther took his leap from faith, he wrote some exquisite poems about Christ. A lesson for all of us.