let's pretend
By Diogenes ( articles ) | Feb 26, 2009
Reading Supreme Court Justice Antonin Scalia's dissent from the recent "Honest Practices" decision, I was momentarily distracted by the following passage: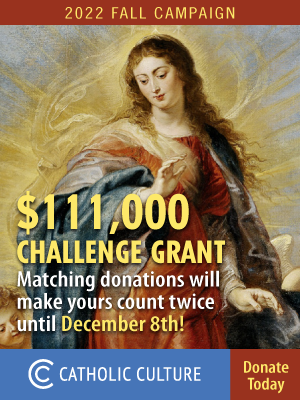 It is practically gospel in the lower courts that the statute "does not encompass every instance of official misconduct," United States v. Sawyer, 85 F. 3d 713, 725 (CA1 1996).
We're all familiar with the meaning Scalia gives to the word "gospel" in that sentence: it means an incontrovertible truth, one that is axiomatically directive of human action; as the Oxford English Dictionary expresses it, "a statement to be implicitly received." The OED cites examples of that usage going back to the 13th century.
Behind the usage was a common social understanding according to which the Gospels were regarded as the truest thing any human being had access to. This was because the Gospels, as Dei Verbum 11 puts it, "have God as their author," or again, in Hopkins's rendering of St. Thomas, "Truth himself speaks truly, or there's nothing true."
So when was the last time you heard a homily that urged you to accept the Gospel accounts as true -- true because it is God who is speaking therein? You're probably more familiar with the backfield shift the homilist routinely performs when he climbs into the pulpit: "Luke put these words in Jesus' mouth because the Gentile community he was writing for wouldn't have understood or accepted Matthew's version ..." You get the gist.

Now I wonder if this near-universal hermeneutical feint will eventually give rise to a common social understanding with secondary effects on our language. Perhaps fifty years from now a judge will pen the phrase, "It is practically gospel in the lower courts ..." and the word gospel will be understood to mean "a falsehood that makes us feel good about ourselves."
Please stand for the Creed.
Sound Off!
CatholicCulture.org supporters weigh in.
All comments are moderated. To lighten our editing burden, only current donors are allowed to Sound Off. If you are a current donor, log in to see the comment form; otherwise please support our work, and Sound Off!