trained as a shaman
By Diogenes ( articles ) | Feb 26, 2009
Thomas Peters and Jeff Miller direct us to Tom Pedicone's blog, whose son Anthony attended Mass last Sunday at the Rochester Institute of Technology's Newman Center. Celebrating was Fr. Richard Hunt, S.J., who, according to Pedicone: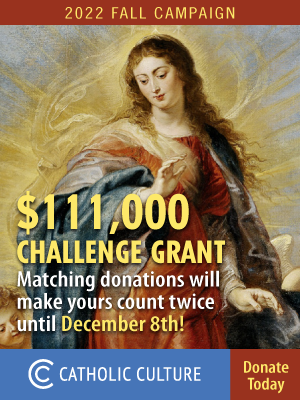 processed into mass behind the cross wearing the Mickey Mouse hat and a gold masquerade mask. Once the singing stopped, the first thing he did was blow a kazoo and say, "Happy Mardi Gras."
Cute. We're told that Hunt also introduced a variation into the Sprinkling Rite by pronouncing a blessing over a Super-Soaker and then using it to hose down the faithful. Some photos taken with a camera phone are displayed for our edification. Hunt is a Jesuit, as it happens, and the chaplaincy is located in the Diocese of Rochester, so we can be pretty certain that help is not on the way.
A flyer for a workshop conducted by Fr. Hunt and called "Spiritual Clearing for Dowsers" (May 2008) gives us a fuller look at his theological tool-kit:
This workshop on Spiritual Clearing will cover both the theory and practice of clearing detrimental spiritual entities that can be in the human energy field. We will explore a wide range of possible spiritual interferences and treatment options for removing them. This is a hands-on workshop, where you will be trained to do spiritual clearings by working with other participants. A two volume workbook set is necessary and is included in the cost of this course. This will be your class notes and reading material for after the workshop. Basic Spiritual Clearing is something any dowser can do. Be sure to bring your pendulum and/or rods."
Fr. Richard D. Hunt, S.J. is Director of Catholic Campus Ministry at the Rochester Institute of Technology. With fifteen years of clinical practice as a psychotherapist – he has studied healing for 35 years with various teachers: he is a Reiki Master-Teacher, uses kinesiology and dowsing. He has spent a lot of time studying Buddhism and practicing that form of meditation in a Christian spiritual context. A trained musician and artist, Fr. Richard has studied and practices Tibetan, and Chinese healing methods, Therapeutic Touch, esoteric and psychic healing methods, he has trained as a shaman with a Native American healer, uses color, sound and music healing methods, Cymatics, Radionics, Rapid Eye Technology, EMF Balancing Technique, Spiritual Clearing, various healing instruments, as well as some methods he developed. He teaches workshops on Healing with Sound; Healing with Light and Color.
After that itinerary, I suppose, the Mickey Mouse hat and the Super-Soaker are the only place left to travel. It's a pity, though, that those Catholic students with the gumption to go to Mass should not only be deprived of the Church's liturgy -- their right -- but afflicted with chaplain's sorrowful exhibitionism, which, like the cupboardful of New Age gadgetry listed above, is almost certainly displayed in compensation for a painful spiritual emptiness.
Sound Off!
CatholicCulture.org supporters weigh in.
All comments are moderated. To lighten our editing burden, only current donors are allowed to Sound Off. If you are a current donor, log in to see the comment form; otherwise please support our work, and Sound Off!