going, gone
By Diogenes ( articles ) | Feb 26, 2009
Mark Steyn explains why Western élites who think it's necessary "to throw out the babies to save the bathwater" have it wrong: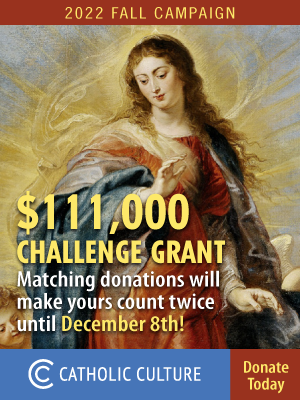 It's striking that, no matter how many British women think globally and sterilize locally, the population of the United Kingdom keeps rising: those London ladies assume they're saving the planet for Al Gore's polar bears, and the spotted owl, and the three-toed tree sloth, and the green-cheeked parrot. In fact, they're saving it for the cultures whose womenfolk don't get themselves sterilized. Forty per cent of children in London primary schools now speak a language other than English at home. The Muslim population of the United Kingdom is growing 10 times faster than the rest of the population. No matter how frantically the ecochondriacs tie their tubes, their country grows ever more crowded. This is a story not of "overpopulation," but of population transformation.
There was a time not so long ago when Catholics, like today's Muslims, had the reputation of being "breeders." It wasn't intended as a compliment. You'll remember Deborah Solomon's 2006 interview with Dr. Katharine Jefferts Schori, Presiding Bishop of the Episcopal Church.
How many members of the Episcopal Church are there in this country?
Jefferts Schori: About 2.2 million. It used to be larger percentagewise, but Episcopalians tend to be better-educated and tend to reproduce at lower rates than some other denominations. Roman Catholics and Mormons both have theological reasons for producing lots of children.
Episcopalians aren't interested in replenishing their ranks by having children?
Jefferts Schori: No. It's probably the opposite. We encourage people to pay attention to the stewardship of the earth and not use more than their portion.
This is a case where we might wish a slur were more accurate. Regrettably, Dr. Jefferts Schori's stereotype is ceasing to have a basis in fact (in the U.S., the Catholic birthrate exceeds the replacement level only because of the high percentage of first-generation Hispanics, who haven't yet forgotten the science of marital relations).
Our Catholic counterparts to Jefferts Schori urge their congregations, meanwhile, to embark on a Brokeback Lent -- not an auspicious undertaking in terms of long-view fecundity. The professional narcissist, of course, is interested only in today's twitter and couldn't care less about what happens after his departure. But the demographics make it plain that you don't twist yourself out of a death spiral: a Brokeback Lent is the longest Lent there is, a Lent which no Easter ever ends.
Sound Off!
CatholicCulture.org supporters weigh in.
All comments are moderated. To lighten our editing burden, only current donors are allowed to Sound Off. If you are a current donor, log in to see the comment form; otherwise please support our work, and Sound Off!