Jacques-Bénigne Bossuet—St. Joseph: A Man after God's Own Heart
By James T. Majewski ( bio - articles - email ) | Mar 19, 2021 | In Catholic Culture Audiobooks (Podcast)
Listen to this podcast on: Apple Podcasts | Google Podcasts
Episodes in this podcast beyond the most recent 15 are limited to Catholic Culture subscribers only. Log in or subscribe now (free) to get all the episodes!

This is a listener-supported podcast! Thanks for your help!
Preview: "Joseph merited the greatest honors because he was never touched by honor. The Church has nothing more illustrious, because it has nothing more hidden."
The contents of this item is restricted to subscribers only. Log in or subscribe for free!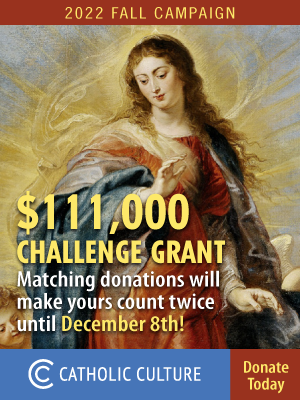 Sound Off!
CatholicCulture.org supporters weigh in.
All comments are moderated. To lighten our editing burden, only current donors are allowed to Sound Off. If you are a current donor, log in to see the comment form; otherwise please support our work, and Sound Off!
Posted by: James T. Majewski - Mar. 22, 2021 9:49 AM ET USA

I'll have to look into that text, Randal -- thanks for the tip!

Posted by: Randal Mandock - Mar. 19, 2021 10:02 PM ET USA

I have an excellent book that I believe is part of Bossuet's "Discourse on Universal History". The book is called "The Continuity of Religion". Filled with subtle humor, it can definitely keep an informed Catholic's attention. I tried using it as a textbook for an 8th-grade CCD course that I gave the same title. Unfortunately, it is too deep for modern 8th graders. What I like about Bossuet's approach is that it is Catholic. By this I mean more concerned with message than with literary criticism