The French campaign for freedom of thought
By Dr. Jeff Mirus ( bio - articles - email ) | May 04, 2015
Now that a French court has ordered the removal of a statue of Pope John Paul II from the town square in Ploermel, I guess the cat is out of the bag. I don't know how to stretch this into a long, learned or delightfully obfuscatory essay.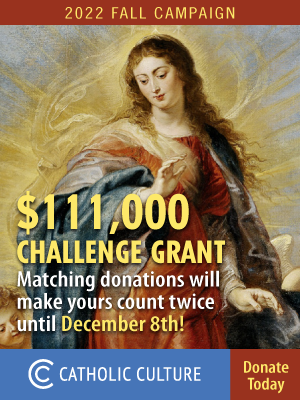 The suit to remove John Paul II from the collective consciousness of France was based on the legally-required secularity of the public square. The organization that brought the suit has an even more ironical name than the American Civil Liberties Union.
It calls itself the National Federation for Free Thought.
Sound Off!
CatholicCulture.org supporters weigh in.
All comments are moderated. To lighten our editing burden, only current donors are allowed to Sound Off. If you are a current donor, log in to see the comment form; otherwise please support our work, and Sound Off!
Posted by: nix898049 - May. 06, 2015 1:14 PM ET USA

Free, huh. Well, like they say, "You get what you pay for."

Posted by: Randal Mandock - May. 05, 2015 2:28 AM ET USA

The National Federation for Free Thought = The National Federation of Self Absorption. Isn't this the dominant god of our age? A far cry from the day when the formerly communist Eastern Block toppled statues of the atheist god Lenin.

Posted by: bruno.cicconi7491 - May. 05, 2015 12:18 AM ET USA

I think it is good that the French practice of laicité is so ridiculous. That is, someone that would follow the principles of his reasoning even to the point of ridicule is much better than he who, understanding that his principles lead to bad outcomes, "pragmatically" ignores them on one occasion so that the unsoundness of his principles may remain hidden. The French may be foolish on this, but at least they have integrity. As for you, America.....