Fighting the Devil: Dangerous Emotions at Work
By Dr. Jeff Mirus ( bio - articles - email ) | Apr 08, 2014
Late last week I had an unusual experience. I found myself getting impossibly angry over the situation in Charlotte, North Carolina, about which I had written twice and Phil Lawler once (see list of essays at the end). I realized I was experiencing an unpredictable emotional reaction which was not what I should be feeling. If (as I believe) there was a destructive mob mentality at work in Charlotte, then the proper Christian response did not include letting a mob mentality into my own head. I could almost feel myself deteriorating into a mob of one.
After so many battles, I was surprised by this reaction. I asked Phil if he had experienced anything similar, and he replied that this particular incident had been essentially business as usual for him, which is what it should have been for me. Then he said something that I found wise: "I think that's the way it is with emotions sometimes; they just creep up on you." The reason was not really in the situation; it was somewhere in my delicate little psyche. It was, perhaps in a deeper sense, somewhere in my own soul. Its recognition became yet another bit of unflattering self-knowledge.
So what do you do when you find yourself emotionally over-extended in this way? To me, it was a signal to step back and avoid writing any further about this incident, as I could not trust my own objectivity. This professional response also made room for the necessary personal response: Disengage, take a breath, pray, relax, and shift attention to something less volatile. That's exactly what I did.
Yesterday I was occupied primarily with management and financial issues. I wrote only a tiny City Gates piece, As the family goes, so goes the nation—or, indeed, so goes Charlotte. Everything is, after all, connected. But it gave me a break. I also need to refuel by reading a few new books, stocking up on ideas and insights which will make it possible to bring fresh perspectives to the issues we all face in the Church and the world.
Seeking a New Topic
But by today I was looking for a more substantive topics, and nothing came immediately to mind. Usually when I'm dry, I'll wander around the house (my office is at home) saying the Rosary and seeing what thoughts bubble up. (As my readers must know by now, everything I write is directly informed and inspired by the Holy Spirit….) As it turns out, our home has a feature that I find indispensable in house design. There is a route you can follow through the entire living area that takes you around in a circle. This fits my pacing personality perfectly. Today I noticed, again, that on each circuit I was passing a pair of paintings on the wall which depict an episode in the life of a young red-headed boy. This is not about me, or maybe it is, but a long time ago, I too was a young red-headed boy.
The pair of paintings was done perhaps ten to fifteen years ago by an artist named Steven De Lacy, originally executed as a front and back cover for This Rock magazine (now Catholic Answers magazine). They are very definitely in the style made famous by Norman Rockwell, especially in the Saturday Evening Post. I was one of several people who suggested to Karl Keating of Catholic Answers that he make prints and sell them to readers. He did, and of course I bought a pair for myself. Not too long ago, in the course of some minor shifting among too many pictures in a smallish house, these went back up on the wall.
The first print shows a side view of a young boy flying high on a swing. You can see a rosary dangling out of his right back pocket. But a black crow has grabbed the Rosary in its beak, and is in the process of stealing it. The boy's face communicates his awareness and outrage.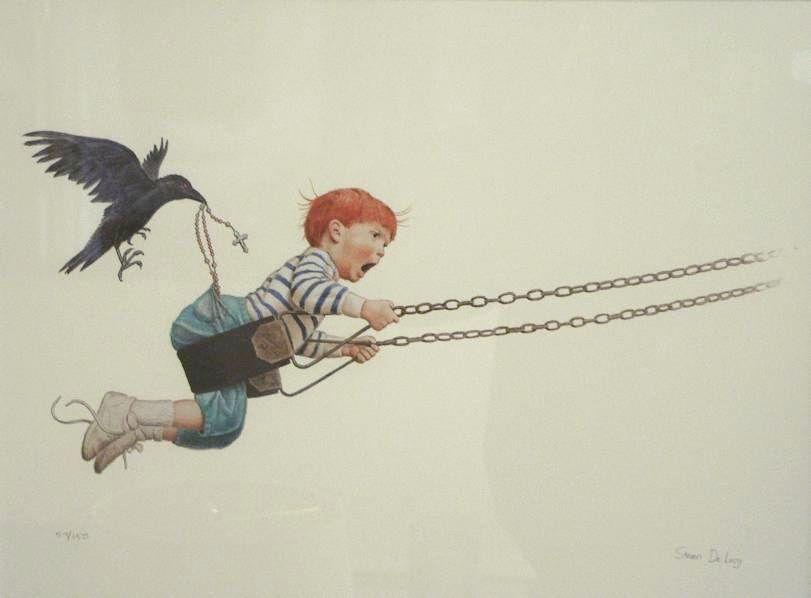 The second print shows the back of the boy sitting on a rock. He is reading a book, perhaps the Bible. His Rosary is back where it belongs, and a lone black crow's feather litters the ground behind him. Then we notice his left back pocket for the first time. It holds a slingshot.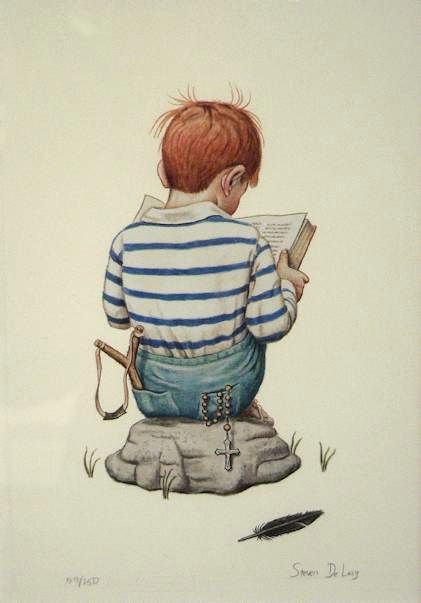 Life is not this simple in every respect, of course. Often we do not see the Devil fall. But the parable is clear.
You pray. You take your best shot. And you relax by trusting God.
---
Three commentaries on the recent controversy at the Catholic high school in Charlotte, North Carolina, during which I found myself overtaken by uncharacteristic anger:
Sound Off!
CatholicCulture.org supporters weigh in.
All comments are moderated. To lighten our editing burden, only current donors are allowed to Sound Off. If you are a current donor, log in to see the comment form; otherwise please support our work, and Sound Off!
Posted by: John J Plick - Apr. 09, 2014 9:44 AM ET USA

I believe we are called to "help each other" in prayer in this distressing situation. It is easier "to shoot" each other's crow(s) than to shoot our own. There is a story about Heaven and Hell, with both occupants having "long handled" spoons with only one pot of soup in each place. In Hell, things were miserable & they were starving, trying to feed themselves, but in Heaven things were joyful, because they were feeding each other!

Posted by: koinonia - Apr. 09, 2014 8:49 AM ET USA

There is something very intimate about this thing we call baptism. By this miracle we are infused with grace to become friends of God. But that's not all. We become members of a great family, a family born of love- the Mystical Body. We are united; an injury to another is an injury to ourselves. St. Catherine speaks beautifully of this. There is just anger; even Our Lord exhibited it. We might be angry when our sister suffers injury for expressing truth animated with love for others.

Posted by: jg23753479 - Apr. 08, 2014 6:25 PM ET USA

You're not alone, Jeff, in feeling rage over the injustice in Charlotte. My anger boiled over last week till I said, just as you have here, "So what do you do when you find yourself emotionally over-extended in this way?" And I tell you that the person who gave me the answer was...well, you, a while ago when you remonstrated me -- correctly so -- for venting once in my posts at CC. I decided to channel my anger into a contribution to the sisters. And once again, I urge others to do the same.

Posted by: Defender - Apr. 08, 2014 6:21 PM ET USA

I particularly understand your anger on this subject having experienced something similar. I taught in three Catholic schools and, when parents had a problem with Catholic teachings (that they never heard before), I showed them where "it says right here..." Parents weren't the biggest problem, however, principals were. There was the wink and the nod, the "Students won't understand" and, of course the, "Because I said so." The worst was a principal with a theology degree using the latter!