faking it
By Diogenes ( articles ) | Sep 26, 2007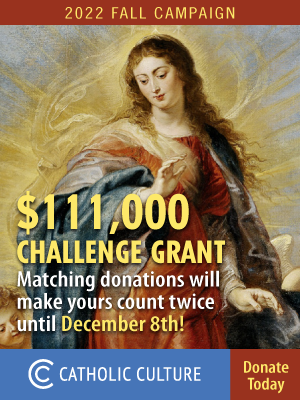 Darling, isn't it? An ex-Jesuit and his ex nun, ex-Catholic wife modeling matching albs and his-'n-her Sandinista stoles. He's got an indelible mark somewhere, and she has a video of herself prostrate on a riverboat deck. The tame journalist plays along to help reinforce the confusion between a valid sacrament illicitly performed and a counterfeit ceremony that is no sacrament at all:
Rev. Juanita Cordero, an ordained Catholic priest, was up on the altar, celebrating the Mass. Cordero, a Los Gatos resident, has been a priest since July. Prior to her ordination she spent 10 years as a Holy Names nun.
Emphasis mine. By silently adopting Cordero's self-description as a priest, the journalist (as we've come to expect) is taking sides in a controversy about which she is supposed to be reporting from neutral ground. Catholics have frequently protested this persistent inaccuracy, but it's an inaccuracy too useful for the media to do without. There's nothing newsworthy in Lefty layfolks strumming folk guitars in the basement, but if you can work the shell game with the key words swiftly enough, you can hand the progressives the semblance of ecclesial legitimacy:
"The Vatican, of course, doesn't recognize women as priests," Cordero notes. "We now have a pope who'd like to return the Mass to Latin, so that's not likely to change anytime soon. But throughout history, if a bishop or priest had been validly ordained by another bishop, even if that new bishop or priest did something wrong he was still validly ordained. My succession line comes from those male bishops so we are validly ordained, even if the Vatican considers us 'illicit.' "
No, the Vatican doesn't consider women priests "illicit"; the Holy See understands and declares that the ordination of women was, is, and always will be invalid -- a sacramental "nothing." Cordero certainly knows this, and the dishonesty of her misrepresenting the mind of the Church must be employed with the tactical purpose of convincing the heathen and the inattentive that the distinctions are mere hair-splitting.
There's a radical incoherence in the stance of a dissenter like Cordero who takes the trouble to acquire a "succession line" from an institution whose authority over that succession she rejects. Yet this incoherence is doctrinal, and Cordero and her ex-Jesuit husband obviously aren't interested in doctrine. What they are interested in is mystique, and the Church by her gravity and antiquity is freighted with lots of potent hieratic symbolism they'd like to tap into.
They're playing church. And that means dressing up. And whatever their theology, they never dress up as a missionary fixing a pump handle.
---
It may be the case that the status of women priests has been somewhat blurred by the focus on their attempts to preside at the Eucharist, as opposed to the Sacrament of Penance. I'd be interested to know how many High Church Anglicans, e.g., with a strong belief in the need for sacramental absolution, would resort to a female priest for confession. I wonder how many "Catholic" pretenders like Cordero would encourage others to make confessions to them. Picture a Cordero with a job as a city hospital chaplain, at the bedside of a dying Catholic -- a pious Mexican, say -- whose failing vision and lucidness made him unaware that he was being ministered to by a woman. Would Cordero, for all her feminist bravado, have the audacity to hear his last confession and give him her bogus absolution? With the stakes raised by the deathbed, would her flippancy about the Pope and the Latin Mass still speak to her? Would her Nicaraguan vestments strengthen her resolve? With salvation and damnation in the balance, could she be positive that she was doing what a Catholic priest could do?
Sound Off!
CatholicCulture.org supporters weigh in.
All comments are moderated. To lighten our editing burden, only current donors are allowed to Sound Off. If you are a current donor, log in to see the comment form; otherwise please support our work, and Sound Off!