smart enough
By Diogenes ( articles ) | Sep 27, 2007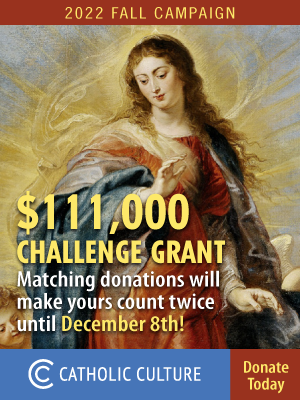 Speaking to the local newspaper about the motu proprio, Bishop Paul Zipfel of Bismarck, North Dakota, included a new explanation among his reasons for accepting the Pope's direction.
"The Holy Father is smarter than I am, and he has good reason for what he's doing," Zipfel said.
That's probably true; the Pope is a very smart man. Still, give the bishop credit: at least he's smart enough to notice. (Socrates had something to say on this issue, as I recall.)
There are a whole lot of people out there who think they're smarter than the Pope. The "smart money" says they're wrong-- in fact, that they're not as smart as Bishop Zipfel.
[Tip to Father Z for the reference to the bishop's interview.]
Sound Off!
CatholicCulture.org supporters weigh in.
All comments are moderated. To lighten our editing burden, only current donors are allowed to Sound Off. If you are a current donor, log in to see the comment form; otherwise please support our work, and Sound Off!