doya doya doya doya wanna dance?
By Diogenes ( articles ) | Jul 17, 2008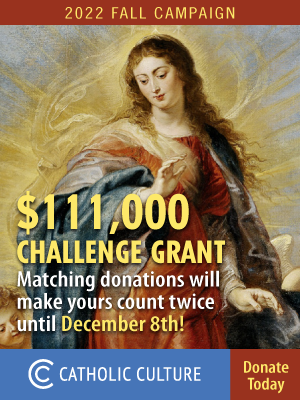 (From the bulletin of St. Francis Xavier Church, the Jesuit parish that proudly advertised itself as the only parish in the US this year to march as a unit in the Gay Pride Day parade in New York.)
ATTENTION DANCERS!
2008 Catechetical Convocation – Archdiocese of New York
"The Word of God in the Life and Mission of the Church"
Saturday, September 27, 2008
Westchester County Center, White Plains, New York
Modern dancers, liturgical dancers, and expert dancers
in Mexican, Philippine, German and African dance
are invited to volunteer
for the Opening and Closing Prayer experiences
of the 2008 Catechetical Convocation of the Archdiocese of New York
to be held on Saturday, September 27, 2008 in White Plains, NY.
No comment necessary. Sometimes all you can do is hope and have a prayer experience.
Sound Off!
CatholicCulture.org supporters weigh in.
All comments are moderated. To lighten our editing burden, only current donors are allowed to Sound Off. If you are a current donor, log in to see the comment form; otherwise please support our work, and Sound Off!